Earn Your Degree On Campus or Online in Business Administration
Take your place in the world of business with a bachelor's degree designed to give you the management and leadership skills you need to succeed. The Bachelor of Science in Business Administration at Park University gives you the strategic critical-thinking and decision-making skills you need to make your mark in your company, your industry and your career.
What You'll Learn
Park University's business administration bachelor's degree programs provide the people skills, management strategies and business insights you need to pursue success in any company and every industry. Our management-focused programs will help prepare you for leadership positions in and out of the corporate world—from leading independent, family-owned operations to managing departments for multi-national businesses. Our business-focused programs will help you explore every aspect of big businesses, from accounting to operations.
Plus, this bachelor's degree program offers a number of concentration options to help you customize your program to your career goals.
Customize Your Degree with Concentrations in
Accounting
Analytics
Business Economics
Business Analytics
Corporate Financial Management
Digital Marketing
Health Care
Human Resources
International Business
Logistics
Management
Marketing
Personal Financial Planning
Professional Sales
Project Management
We are where you are
The Business Administration Degree is offered at 37 locations nationwide and Online so find one near you and start today!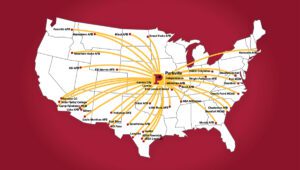 Make Your Move
Don't let anything stop you from achieving your goals in business. Your Park degree can help you open doors of opportunity. To help you get started, we're waiving your application fee.
In addition to locations throughout the United States, Park University has developed over 650 courses online. Most courses are scheduled within five eight-week terms in the academic year.