Park University Golf Scramble Set for Oct. 8 to Benefit Athletic Programs
July 10, 2018 — The 2018 Park University Golf Scramble, a four-person tournament that benefits the University's athletic programs, is scheduled for Monday, Oct. 8, at The National Golf Club of Kansas City.
Golfers get on the course with a shotgun start at 10 a.m., with registration beginning at 8:30 a.m. An awards program will be held immediately follow the completion of the tournament at approximately 3:30 p.m.
Tournament sponsorship fees are $225 per golfer or $900 per four-person team, and includes 18 holes of golf with a cart, box lunch on the course, driving range access prior to the event, on-course games and contests, and refreshments. In addition, a variety of sponsorship packages are available, ranging in price from $1,400 to $5,000. To register for the tournament or for more information, visit www.park.edu/golf.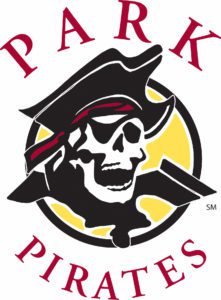 Park University's athletic programs are members of the National Association of Intercollegiate Athletics and the American Midwest Conference. The University competes in 17 intercollegiate sports: men's and women's basketball, cross country, golf, soccer, indoor/outdoor track and field, and volleyball; men's baseball; and women's softball; and beginning in spring 2019, women's beach volleyball. The University also has seven developmental (junior varsity) athletic programs in men's and women's basketball, and soccer, men's baseball, and women's softball and volleyball. Park will add e-sports under the athletics department starting in fall 2019.
Among the highlights from the Pirates' 2017-18 year:
          •  Women's volleyball advanced to the quarterfinals of the NAIA national championship and finished No. 6 in the final coaches poll
          •  Men's golf ranked in the top 25 in the final week of the season ahead of sending a player to the NAIA national tournament for the first time in 36 years.
          •  A number of individuals advanced to the NAIA national championships in cross country, indoor track and field, and outdoor track and field
          •  116 academic all-conference qualifiers, seven NAIA all-Americans and three Google Cloud Academic All-America honorees.
For questions about the tournament or sponsorship levels, contact Nathan Marticke, associate vice president of advancement, at nathan.marticke@park.edu or (816) 584-6200.