Photographer and Park University Alumnus to Showcase Photos from Kenya in Campanella Gallery Exhibit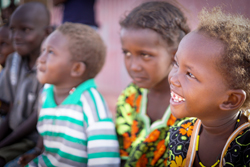 May 22, 2018 — Carl Gregory, a Northland (Kansas City) photographer and a 2011 Park University graduate, will exhibit photographs he captured during recent mission trips to Kenya in the University's Campanella Gallery, Monday, June 4, through Friday, July 27. Admission to the Gallery, located within Norrington Center on the Parkville Campus, is free. A reception for the artist will be held on Friday, July 6, from 2:30 to 4:30 p.m. in the Gallery.
Gregory, a multidisciplinary artist, graduated from Park Hill High School in Kansas City, Mo., and is a current resident of Liberty, Mo., assisted two organizations — Eagle Projects International and Lifeway International — by providing photography on mission trips to Kenya where both organizations trained local leaders and offered medical assistance.
In his artist's statement about the exhibit, Gregory said, "I had the opportunity to see various and beautiful tribes of Kenya, capturing portraiture of each and the unique hues of humanity they and their lands offered my lens. I was blessed to meet people of different cultures and languages in their own lands. I hope this photography provokes joy, curiosity and respect, and dispels the otherness of fear while expressing the uniqueness of each beautiful tribe.
Norrington Center and the Campanella Gallery will be open during the building's summer hours for the exhibit as follows:
          •  Monday through Friday, 8 a.m. to 4:30 p.m.; Saturday and Sunday, closed
          •  The building will be closed on Wednesday, July 4, for the Independence Day holiday
Andrea Lee, Ph.D., Park University assistant professor of art and chair of the Department of Art, Design and Interdisciplinary Studies, is the director of the Campanella Gallery.