Park University's Year of Diversity Series of Events Continues at Negro Leagues Baseball Museum's Baseball Book Notes Series
Feb. 21, 2018 — Park University is once again partnering with the Negro Leagues Baseball Museum to host the Museum's 2018 Baseball Book Notes Spring Series. All events will be held at the NLBM, 1616 E. 18th Street in the 18th and Vine District in Kansas City, Mo. Entry to the events is free with paid admission to the Museum (free to NLBM members). The Baseball Book Notes Spring Series is a part of the University's Year of Diversity.
The Series serves as an unofficial kickoff to the 2018 Major League Baseball Season and provides unique literature events with nationally known baseball scholars and authors. The 2018 Baseball Book Notes Spring Series will feature discussions on a variety of recent sports-related publications.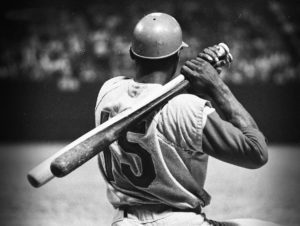 The first event in the Series will be held on Sunday, Feb. 25, starting at 3 p.m. Director Gaspar González will present his film "A Long Way Home: The Untold Story of Baseball's Desegregation," followed by a discussion. The 42-minute documentary chronicles the struggles and triumphs of black and Latino baseball players who followed Jackie Robinson after he broke baseball's color line in 1947. It features interviews with former Kansas City Royals second baseman Octavio "Cookie" Rojas, as well as Enos Cabell, Orlando Cepeda, James "Mudcat" Grant, Grover "Deacon" Jones, Orlando Peña, Tony Pérez, J.R. Richard, Bobby Tolan and Jimmy Wynn.
Other events in the 2018 Baseball Book Notes Spring Series:
Saturday, March 3, 1 p.m. — Discussion and book signing with Karl Subban, co-author of How We Did It: The Subban Plan for Success in Hockey, School and Life. Subban is the father of two sons who currently play in the National Hockey League, P.K. (Nashville Predators) and Malcolm (Vegas Golden Knights), and a third son, Jordan, who plays in the American Hockey League with the Ontario Reign. Karl Subban, a former school principal, will discuss the inspirational and moving story that follows his family's hockey journey from playing in house leagues to the big leagues, and shows how to grow the unlimited potential in every child.
Saturday, April 7 — Baseball Book Notes "Double Play"

10 a.m. — Discussion and book signing by James W. Johnson, author of The Black Bruins: The Remarkable Lives of UCLA's Jackie Robinson, Woody Strode, Tom Bradley, Kenny Washington and Ray Bartlett. The book chronicles the inspirational lives of five black athletes who faced racial discrimination as teammates at UCLA in the late 1930s in an era when fewer than a dozen major colleges had black players on their rosters.
11 a.m. — Discussion and book signing by Ira Block, author of Cuba Loves Baseball: A Photographic Journey, and Byron Motley, author of Embracing Cuba. Block spent three years photographing the culture of Cuba through baseball, helping preserve baseball's enduring presence in Cuba. Motley, the son of former Negro Leagues umpire Bob Motley, was intrigued by tales of his parents' long-ago journey to the pre-revolutionary "Pearl of the Antilles." He has traveled to Cuba numerous times to explore its vistas, people and spirit.
Saturday, April 14 — "Reading Around the Bases" Family Day (as a part of the NLBM's Jackie Robinson Weekend). Event will include readings of two books, arts, crafts, music, museum tours and lunch.

10 a.m. — Introduction, followed by reading of The United States v. Jackie Robinson, authored by Sudipta Bardhan-Quallen, and illustrated by R. Gregory Christie who will serve as reader of the moving and inspiring nonfiction picture book about Robinson's court martial trial.
11:15 a.m. — Reading of Testing the Ice: A True Story About Jackie Robinson, authored by Sharon Robinson, and illustrated by Kadir Nelson who will serve as reader of the heartwarming story about Sharon Robinson growing up with her father.
Admission to the Negro Leagues Baseball Museum is $10 for adults, $9 for seniors 65 and older, $6 for children age 5-12 and free for children under age 5. For more information about the 2018 Baseball Book Notes Spring Series, contact the NLBM at nlbmuseum@gmail.com / (816) 221-1920.