Park University Black History Month Event to Highlight Jazz in Europe During World War I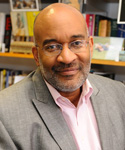 A discussion focusing on James Reese Europe, an American ragtime bandleader and composer, and his impact on jazz throughout the European continent during World War I, will be presented on Monday, Feb. 26, starting at 7 p.m. at the Gem Theater, 1615 E. 18th Street, in Kansas City, Mo. The event, "From Bandana Land to No Man's Land: James Reese Europe's Musical Journey," is presented as part of Park University's 17th annual Spencer Cave Black History Month Lecture Series.
The event is free and open to the public, but reservations are requested to ensure admission.
Michael Dinwiddie, associate professor at New York University's Gallatin School of Individualized Study, will be the featured speaker. In addition, a Kansas City area jazz band is scheduled to perform some of Europe's compositions during the program.
A dramatist whose works have been produced in New York, regional and educational theater, Dinwiddie spent a year at Touchstone Pictures as a Walt Disney Fellow and worked as a staff writer on ABC's "Hangin' with Mr. Cooper." Dinwiddie was awarded a 1995 National Endowment for the Arts Fellowship in Playwriting and in April, he will be inducted into the College of Fellows of the American Theatre. Dinwiddie also serves as chair of the Duke Ellington Center for the Arts, Manhattan, N.Y. He is a two-time graduate of New York University, earning a Bachelor of Arts in individualized study and a Master of Fine Arts in dramatic writing.
According to Eubie Blake, Europe (1881-1919) was the "Martin Luther King of music." Already an accomplished jazz musician when the U.S. entered World War I, Europe was commissioned a lieutenant for the 15th New York National Guard Regiment, later known as the 369th Infantry Regiment nicknamed the "Harlem Hellfighters." His 369th Regiment Marching Band became one of the most famous military bands throughout the European continent, introducing jazz to British, French and other European audiences. He returned home a hero in February 1919 and embarked on a tour with the band, but a few months later, Europe was stabbed by one of the drummers during an argument and died.
The Spencer Cave Black History Month Lecture Series is named for Spencer Cave, who was born a slave at the start of the Civil War, later moved to Parkville, Mo., in 1875 (the year Park University was founded) and worked for the University for more than 70 years before his death in 1947.
The lecture is sponsored by Park's Program of History, and is presented in partnership with the American Jazz Museum, National Archives at Kansas City, National World War I Museum and Memorial, Negro Leagues Baseball Museum and the Greater Kansas City Black History Study Group.