SCIENCE PIONEERS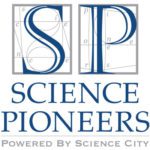 Park University is proud to be a supporter and provider of graduate credit for Science Pioneers Teacherline program, which offers teachers, educators and after-school providers two ways to complete high-quality, standards-based courses through fun and flexible professional development opportunities.
Science Pioneers provides the coursework, Park University provides the graduate credit, and educators gain practical strategies, content and resources for the classroom.
SCIENCE PIONEERS COURSES REGISTER FOR CLASSES
PreK-12 Coursework Areas
Science
Technology
Engineering
Math
Instructional Strategies
NGSS
Visit the Science Pioneers website for information on upcoming courses.
Enroll directly through Science Pioneers to view course options at http://www.sciencepioneers.org/calendar/events and follow the Park University graduate link to register for Credit. 
Take Courses Online or at Union Station in Kansas City
Courses are offered year-round.
Online courses last 12.5 hours.

Each course lasts one month and is composed of online readings, tutorials, discussion, videos, webquests and a variety of other resources.

Face-to-face courses at Union Station last 4.25 hours.
Cost
Each 12.5-hour online course costs $60 and is payable to Science Pioneers.
Each 4.25-hour face-to-face courses costs $20 and is payable to Science Pioneers.

Teachers must take three 4.25-hour courses of their choice throughout the year and create an original lesson plan for each course (for a total of 3) to earn one graduate credit hour.

Graduate credit is $65 per credit hour and is payable to Baker University. (Once you enroll in the Science Pioneers course, you have the option within the course to sign up for graduate credit.)
Science Pioneers Teacherline cost $60 (1 online course or 3 face-to-face courses)
Graduate Credit Park University $70.00 per graduate Credit
To Receive Park University Graduate Credit
To receive graduate credit, 12.5 hours of dedicated online work and complete weekly lesson plan based on the topic of that particular week are required. All lesson plans within the class will be shared with other students enrolled.
Please note: In order to receive graduate credit from Park University you must send your payment