Welcome to Park University at Gilbert Residence Life. We're glad you're considering living at our apartments or are visiting this site as a member of our community. We work hard to provide Park students with a premier living experience. View our local Gilbert Resources map to see what's close to campus.
Options in the area for students to choose from:
The Orchard on Gilbert (Country Villa):  $3900 / Semester
Olive East:  $4200 / Semester
Espiral (formerly Park Meadows):  $4200 / Semester
Cadia Crossing:  $4600 / Semester
Desert Mirage:  $4600 / Semester
Cost Academic Year 23/24
The above rates are per semester for a double occupancy room, which includes a furnished apartment and utilities. Please note that signing with the University apartments constitutes a year commitment.
Below are some of the common "Suite Style" apartment floor-plans in which the university operates. Suites consist of four students total. Each resident will be sharing a room and a bathroom with one other person as well as the common spaces with an additional two suite-mates.
A full listing of apartment furnishing can be found here.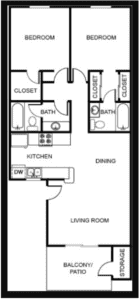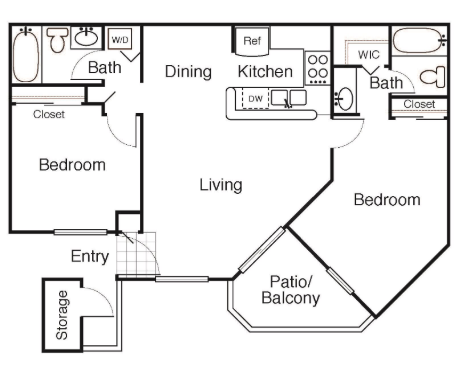 Park University Gilbert Housing Process
Park University's housing application will provide the Residence Life staff with your contact information and living preferences, which will be used to match you with a roommate. If you have a preferred roommate, list that person's name on the application. If you have questions, contact gilbertreslife@park.edu
After completing the above application, you will need to fill out and electronically sign the housing agreement. If you require a PDF copy of this form to submit, please download the form with us here.
(Waitlist Deadline August 1st)
All residents who are looking to live in University-provided housing must fill out a University and Housing Deposit. This deposit totals $575.00 and consists of three separate elements:
$75.00 of such deposit is non-refundable for application fees to the apartment complexes.
$400.00 of this deposit will be credited to the balance of the semester charges in the student bill.
$100.00 of this deposit will act as a security deposit and will be returned to the resident after they leave Residential Housing.
To pay the deposit, log into your MyPark account, email gilbertreslife@park.edu, or call +1 480-214-2100. Please note that the deposit will not be viewable in its sub-elements in the student bill.