CURRENT ISSUE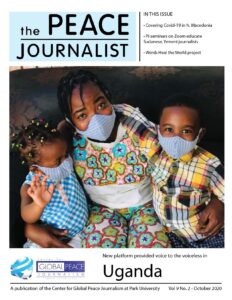 PREVIOUS ISSUE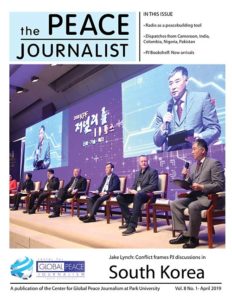 ARCHIVED ISSUES:
October, 2018 – 

The October 2018 edition features special report on the safety of journalists, as well as dispatches from peace journalists from around the world.

April, 2018 – A report on a special PJ project in Ethiopia, and features from Kenya, Austria, Nigeria, and Lebanon.
October, 2017–Features a look at PJ projects in Cameroon, Pakistan, and Ethiopia, Fiji, and elsewhere.
April, 2017:Afghanistan, Kenya, Sierra Leone, Cameroon, India/Pakistan, and the U.S.
October 2016: Cover: Practicing reconciliation journalism in South Sudan
April 2016: Cover: Responsible Syrian refugee reporting in Turkey
October 2015-Cover: Learning about the power of PJ in Kashmir
April 2015-Cover: Working with Turkish journalists on covering Syrian refugees
October 2014-Cover: Searching for Peace Journalism in Ferguson, Missouri
April 2014-Cover: Planting the seeds of peace journalism in Cyprus
October 2013-Cover: Finding Untold Stories: Afghan Voices
October 2013 (In Spanish). Cover: Voces Afghanas
April 2013-Cover: Researching Peace Journalism-IPRA/Japan
October 2012-Cover: Peace Journalism in East Africa
April 2012-Cover: Uganda project spreads peace journalism
ABOUT
The Peace Journalist is a semi-annual publication of the Center for Global Peace Journalism at Park University in Parkville, Missouri. The Peace Journalist is dedicated to disseminating news and information for and about teachers, students, and practitioners of peace and conflict sensitive journalism.Submissions are welcome from all. We are seeking shorter submissions (300-500 words) detailing peace journalism projects, classes, proposals, etc. We also welcome longer submissions (800-1200 words) about peace or conflict sensitive journalism projects or programs, as well as academic works from the field.
Editor: Steven Youngblood, Director, Center for Global Peace Journalism Park University
Editorial Assistance: John Lofflin, Frank Hamilton, Jeff Smith, Carol Getty – Park University
Contact: steve.youngblood@park.edu
MAGAZINE INDEX
Articles from all Peace Journalist magazines are indexed in this file.
Articles are indexed three ways: By Topic/title; By Author; and By Country/Region.
Peace Journalist Magazine Index