Former Park University President Byers-Pevitts Passes Away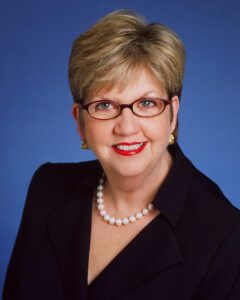 Beverley Byers-Pevitts, Ph.D., who served as Park University's 14th (and first female) president from 2001-09, passed away in Sarasota, Fla., on Nov. 4. (NOTE: An obituary provided by the family on Nov. 9 is at the bottom of this announcement.)
Mackay Hall on Park University's flagship Parkville (Mo.) Campus will be lit black tonight (Monday, November 7) in her honor. An obituary and services are pending. Once received, information will be updated at park.edu/news/byers-pevitts.
Byers-Pevitts came to Park from Texas Woman's University where she served as provost, vice president of academic affairs and interim president/chief executive officer from 1995 to 2001. Prior to TWU, she served as the dean of humanities and fine arts at the University of Northern Iowa; as choir and director of graduate studies in the Department of Theater Arts at the University of Nevada, Las Vegas; and as director of speech and drama at Kentucky Wesleyan College.
During her tenure at Park, Byers-Pevitts enhanced initiatives that secured the University greater visibility in local, national and international circles. She helped develop education study exchange agreements on four continents and worked to expand relationships with government and military constituencies important to Park's future. Byers-Pevitts also extended Park's participation with the armed services through the development of the Park Global Warrior Center. She also helped establish the University's International Center for Music (currently celebrating its 20th anniversary) and the International Center for Civic Engagement.
She was a professionally produced and published playwright, has had numerous articles published in educational journals and books, and lectured widely. Byers-Pevitts was the founding president of the Association for Theater in Higher Education and served on the national advisory board for the Women's Museum, a division of the Smithsonian Institution.
Byers-Pevitts earned her doctorate degree and a Master of Arts degree from Southern Illinois University, Carbondale, and a Bachelor of Arts degree from Kentucky Wesleyan College (she was the first alumna of KWC to become a president of a college/university). She also completed post-doctoral study at the Institute for Education Management at Harvard University.
Park University President Shane Smeed said, "I express my deepest condolences to Bob (Pevitts, her husband) and her family. Dr. Byers-Pevitts' vision and dedication will persist within the countless students she taught, the higher educational professionals she mentored and the programs she launched."
Obituary
President emerita of Park University, educator, women's arts and education advocate, CEO of various advocacy organizations, an authority in theatre and visual arts, lover of historic places and avid collector of antiques and glassware, Beverley Byers-Pevitts passed away Friday afternoon, November 4, 2022, with her husband, son, sisters, daughter-in-law and other immediate family members at her side in Sarasota, Florida.
Born August 15, 1939, in Horse Branch, Kentucky, to Vera and Stanley Byers, she excelled in academics and the arts in high school. She went on to earn a B.A. from Kentucky Wesleyan College, as well as her M.A. and Ph.D. degrees from Southern Illinois University, Carbondale. Her postdoctoral study was conducted at Harvard University in the Institutes for Higher Education. She was also awarded the Honorary Doctorate of Laws from Kentucky Wesleyan College.
Throughout her career and personal life, she founded, served and chaired a great number of boards, councils and organizations. She earned a host of awards and honors in her fields and was well-known and respected throughout the academic, arts,and women's advocacy world. Her love of teaching and inspiring young minds remained a priority throughout her entire career.
Her travels throughout the Americas and across the world contributed to her openness, acceptance and love of people, deep affection for opera and theatre, and most importantly, her modesty. Among her favorite places were Santa Fe, New York, Chicago, Colombia, Mexico and Europe. She was particularly taken by the Rosario Islands Archipelago on the Caribbean coast of Colombia.
Beverley is survived by her husband, Bob Pevitts, son Rob, daughter-in-law Carmen Angel, sisters Aggie Byers and Susan Reagan, brother Stanley Byers and her beloved nieces and nephews.
All of Beverley's many friends and family are well-aware of her long-held maxim: "I came into this world without fanfare and that's the way I wish to go out." As per her wishes, a formal service will not be held.
Those who would like to celebrate and honor her life can make a donation to St. Jude's Children's Research Hospital in her name.