Ceramics Exhibit Featured in Park University's Campanella Gallery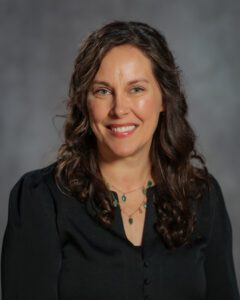 March 6, 2023 — An exhibit of ceramics, "Aura," by Elaina Michalski, will be featured in Park University's Campanella Gallery, beginning Monday, March 13, through Friday, April 21. Admission to the Gallery, located within Norrington Center on the University's flagship Parkville Campus, is free. A reception for Michalski will be held on Friday, March 24, from 4 to 6 p.m. in the Gallery.
Michalski is an assistant teaching professor of fine art at Park University. In her artist's statement, Michalski said that visiting the International Ceramics Studio in Kecskemet, Hungary in summer 2022 provided her with a creative adventure and rich, immersive experience.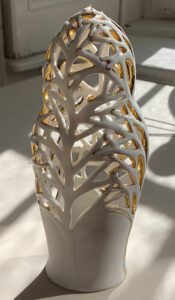 "This series was inspired by the aura of the places I visited, the aura of the feminine spirit and the aura of the translucent porcelain when illuminated with light," she said. "During my time at the ICS, I was able to immerse myself in creating this new body of work that is unique from anything I previously created in my own studio. The environment enabled me to explore a new direction with porcelain and has greatly impacted me as an artist and educator."
Michalski earned a Bachelor of Fine Arts degree in ceramics from the Kansas City Art Institute and a Master of Fine Arts degree in multimedia art from the University of Florida.
The Campanella Gallery, directed by Andrea Lee., Ph.D., associate professor of art and design, is open during Norrington Center's regular business hours:
          •  Monday through Thursday, 7:30 a.m. to 9 p.m.
          •  Friday, 7:30 a.m. to 4:30 p.m.
          •  Saturday, 10 a.m. to 4 p.m.
          •  Sunday, 4 to 9 p.m.