Park University's Campanella Gallery to Feature Student Clay Art Exhibit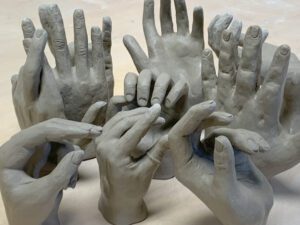 November 1, 2022 — The next art exhibit in the Park University Campanella Gallery's 2022-23 season will be a showcase of student works, "Hand Studies in Clay," that will run Thursday, Nov. 10, through Wednesday, Nov. 30. Admission to the Gallery is free.
A reception for the artists will be held on Friday, Nov. 18, from 2 to 4 p.m. in the Gallery, which is located within Norrington Center on the University's flagship Parkville Campus.
Eighteen Park University students from AR 143 (Three-Dimensional Design) classes taught by Elaina Michalski, assistant teaching professor of fine art, will exhibit their work sculpted from direct observation of the hand to create naturalistic three-dimensional forms using stoneware clay.
The Campanella Gallery, directed by Andrea Lee, Ph.D., associate professor of art and design, is open during Norrington Center's regular business hours:
          •  Monday-Thursday, 7:30 a.m. to 9 p.m.
          •  Friday, 7:30 a.m. to 4:30 p.m.
          •  Saturday, 10 a.m. to 4 p.m.
          •  Sunday, 4 to 9 p.m.
Note: The building will be closed on Friday, Nov. 11 (Veterans Day) and Thursday-Friday, Nov. 24-25 (Thanksgiving holiday).