Park University's Constitution Day Event to Focus on World War II-Related U.S. Supreme Court Case
August 22, 2022 — Park University's annual Constitution Day event will feature a discussion related to the 1940s U.S. Supreme Court case of Korematsu v. U.S. on Thursday, Sept. 22, starting at 3 p.m. in the Jenkin and Barbara David Theater inside Alumni Hall on the University's flagship Parkville Campus. Admission is free and open to the public. The lecture will also be livestreamed via Park's video portal at park.edu/constitutionday.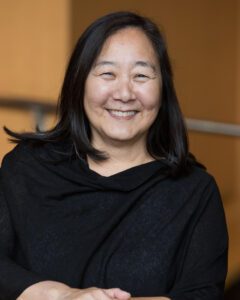 The keynote speaker for the lecture, "Racism, the Rule of Law and Seeking Healing: Lessons of the Japanese American Incarceration," will be Lorraine K. Bannai, J.D., professor emerita and director emerita of the Fred T. Korematsu Center for Law and Equality at Seattle University's School of Law.
After earning her Juris Doctor degree from the University of San Francisco School of Law, Bannai joined the San Francisco law firm of Minami Tomine and Lew (now Minami Tamaki). While there, in 1983, she served on the legal team that successfully overturned Korematsu's World War II-era conviction for refusing to comply with President Franklin Roosevelt's Executive Order 9066. That order authorized the Secretary of War and the armed forces to remove people of Japanese ancestry from designated military areas and surrounding communities in the U.S. During World War II, 120,000 persons of Japanese ancestry were rounded up from their West Coast homes and moved to concentration camps as a result of fear that they posed a threat of espionage and sabotage. That incarceration continues to have haunting relevance during the present national conversation about race.
Bannai has written and spoken widely on the wartime Japanese American incarceration and its present-day relevance. She has testified before the U.S. Senate Judiciary Committee and co-authored amicus briefs on behalf of the children of Korematsu, Gordon Hirabayashi and Minoru Yasui on the continuing lessons of the incarceration. Bannai authored a biography of Korematsu, Enduring Conviction: Fred Korematsu and His Quest for Justice, and co-authored the book Race, Rights and National Security: Law and the Japanese American Incarceration.
This year's Constitution Day lecture coincides with Park University's 80th anniversary of admitting Nisei (second generation Japanese American) students in 1942. Earlier this year, Park received a pair of grants totaling more than $53,000 in support of the anniversary. The University received a $46,400 grant from the Institute of Museum and Library Services under provisions of the Library Services and Technology Act, and administered by the Missouri State Library, to digitize archival records of the University's Nisei students and other Missouri colleges that enrolled between 1942-45. Park's collection is comprised of more than 1,300 artifacts. In addition, Park received a $7,000 grant from the Missouri Humanities Council to support a Nisei-related exhibit and this year's Constitution Day speaker.
Constitution Day, or Citizenship Day as it is also called, is federally mandated for all institutions of higher education that receive federal funding. The legislation was enacted in 2004 and implemented by the U.S. Department of Education in 2005. It celebrates the adoption of the U.S. Constitution and those who have become U.S. citizens.