Park University Hosting Art Exhibit Featuring Works by Two Artists from Northwest Missouri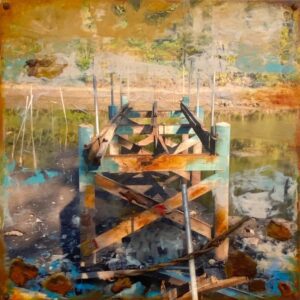 May 31, 2022 — From today's current events that foreshadow change tomorrow, Missouri artists Laurel DeFreece and Robin VanHoozer have collaborated to create "Fate," an art exhibit that explores the random events that intertwine the common threads of tomorrow. The exhibit will be on display at Park University's Campanella Gallery from Tuesday, June 7, through Friday, July 29. Admission to the Gallery, located within Norrington Center on the University's flagship Parkville Campus, is free. A reception for the artists will be held on Friday, June 24, from 2 to 4 p.m. in the Gallery.
According to the duo's artist statement, the exhibit combines encaustic, mixed media and collage techniques to depict themes of nature, truth, time and destiny in rural America. As climate and nature are at the forefront of issues affecting the world's future, "Fate" portrays and documents incremental temperature increases plus dramatic weather activity, such as floods and drought, intensifying with time and how that affects urban and rural communities alike.
Using materials from nature and Midwest prairie, along with encaustic paint, photographs, text and other found materials, the exhibit tells the slow-moving narrative of the effect humankind has had on nature and the land. It also builds community awareness of the tiny day-to-day changes that over time lead to an uncertain fate. Consisting of works created jointly and individually, the exhibit's message is one of man's and nature's mutual destiny and hope for the future.
DeFreece, a resident of Plattsburg, Mo., makes natural handmade paper for prints, collages and 3-D structures using native grasses, fiber, sticks and other found objects. Her work can be viewed at laurelsartstudio.com. VanHoozer, a resident of St. Joseph, Mo., is an artist, painter and maker of unusual things, with her work displaying a love of dynamic movement and vivid color. Her work can be viewed at robinvanhoozerart.com.
The Campanella Gallery is open during Norrington Center's regular summer hours: Monday through Thursday, 8 a.m. to 8 p.m., and Friday, 8 a.m. to 4:30 p.m. The building is closed on Saturday and Sunday, and it will also be closed for the Independence Day holiday on Monday, July 4.