Park University Recognizes 2017-18 Academic Achievements at Honors Convocation
April 30, 2018 — Park University students, faculty and staff were recognized for their exceptional scholarly efforts from the 2017-18 academic year at the University's annual Honors Convocation on April 25, held in Graham Tyler Memorial Chapel on the University's Parkville Campus. In addition to a number of departmental academic honors, the University acknowledged outstanding students and faculty with a variety of special awards.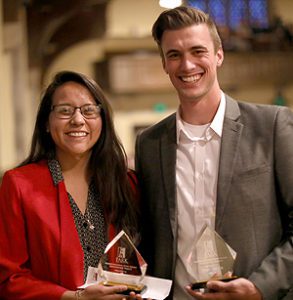 The most prestigious honor bestowed on any student at Park University — the Outstanding Parkite Award — went to seniors Margarita Araiza and Ryan Zitter. The Outstanding Parkite Award is given to one senior female and one senior male student on the University's Parkville Campus who best exemplify the ideals of the University in their character, conduct, scholarship and student activity participation. The awards are endowed by Dr. Elliot F. Parker in memory of his parents, Albert George and Jessie Bewley Parker.
Araiza, a senior secondary education/biology major from Kansas City, Mo. (attended Oak Park High School), has excelled in the classroom with a 3.89 cumulative grade point average. During her time at Park, Araiza has been involved in multiple aspects of campus life. She served as vice president and secretary of Spectrum, and as the vice president of intercultural engagement and president of Park's Student Activities Board. In addition, Araiza was a member of the University's Diversity and Inclusion Task Force. She also served as a First-Year Experience mentor, a student ambassador and resident assistant, and was a member of the International Club and Black Student Union.
In 2017, Araiza was honored with a Dr. Doris Howell Leadership Award, an award given to students who distinguish themselves uniquely as leaders, regardless of position or title. In January, a paper she co-authored, "Growth Habit Indicators from Permian Antarctic Glossopterids" was published in the Review of Palaeobotany and Palynology.
Zitter, a senior biology major from Overland Park, Kan. (attended Christ Prep Academy, Lenexa, Kan.), also shined in the classroom with a 3.93 GPA and was a three-time Presidential Scholar. A member of Park's cross country and track and field teams, Zitter was named to the American Midwest Conference's Academic All-Conference teams five times, a Daktronics-NAIA Scholar-Athlete three times and an NAIA Champions of Character recipient three times.
He served as the Park Student Government Association's vice president in 2017-18 and chair of PSGA's technology fee committee. Zitter was inducted into the Alpha Chi National College Honor Society in 2017, serving as president of Park's chapter, and he was treasurer of the Student-Athlete Advisory Council and was a member of the Beta Beta Beta National Biological Honor Society. During the Honors Convocation, Zitter also received the Burton W. Scheib Pre-Medical Prize for excellent work in the field. In addition, he has done volunteer work at City Union Mission, Harvesters – The Community Food Network, Menorah Medical Center and Special Olympics.
Additional Presidential Awards presented: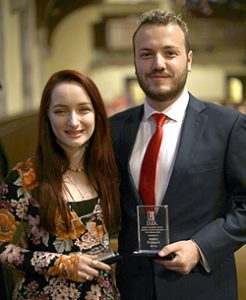 Louisa Davidson Hinde / Carolyn Hinde Zarkaryan Memorial Award — This award is given to two students and one faculty/staff/alumnus who best represent the spirit of Park University by promoting in others that quality of excellence that has always been associated with a Park education.
          •  Students: Arber Dumani, senior communication arts/public relations major, Tirana, Albania, and Alayna Howard, senior English writing major, Kingston, Mo. (attended Cameron [Mo.] High School)


          •  Staff: Florenda Jarrard, assistant director of academic support services and disability services coordinator, Kansas City, Mo.

J.L. Zwingle Award — This award pays tribute to an outstanding faculty member as voted by the student body.
          •  Glenn Lester, assistant professor of English and first year writing program coordinator, Kansas City, Mo.

Teaching Excellence Awards — These awards recognize the full-time and adjunct faculty members who exemplify excellence in teaching, as nominated by peers, students and staff.
          •  President's Award for Teaching Excellence (for full-time faculty): Alexander Silvius, Ph.D., assistant professor of physics, Parkville, Mo.


          •  Provost's Award for Teaching Excellence (for adjunct faculty): Jim Weigand, adjunct instructor of chemistry, Parkville, Mo.
Excellence in Academic Advising Award — This award is given to recognize faculty/staff who have achieved excellence in providing Park University students academic advising and mentoring, and recognizes outstanding contributions in helping students define and achieve their academic goals.
          •  Toni-Rochelle Ford, assistant professor of marketing, Kansas City, Mo.
View a complete list of awards presented during the Honors Convocation.