Talk on Exoplanets Focus of Park University's Johnson Family Lecture Event
April 4, 2023 — A discussion on exoplanets — planets that orbit a star other than the sun — will be the focus of Park University's Johnson Family Lecture Series in Science, which will be held Monday, April 24, at 7 p.m. in the Jenkin and Barbara David Theater inside Alumni Hall on the University's flagship Parkville Campus. Admission to the lecture is free and open to the public.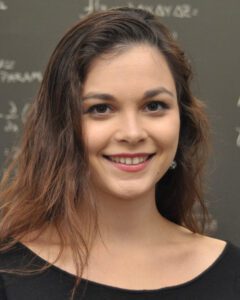 Sarah Moran, Ph.D., the first Lunar and Planetary Laboratory Director's Postdoctoral Fellow at the University of Arizona, will present her lecture on "Strange New Worlds: Exoplanet Atmospheres Through the Eyes of the James Webb Space Telescope."
Moran, a Lee's Summit, Mo., native and 2011 graduate of St. Teresa's Academy in Kansas City, Mo., will discuss the chemistry, clouds and climates of worlds within and beyond the solar system as part of her presentation. "Planets beyond the solar system, also known as exoplanets, put the solar System and Earth in context and help us figure out whether life on Earth is unique and the limits of planetary formation and evolution," she said. "Though the existence of thousands of exoplanets has been known for a decade, detailed characterization has been limited with only the Hubble Space Telescope and ground-based observatories. With the James Webb Space Telescope, new chemical and climate characterization is possible, letting researchers trace the carbon contents and complex molecules in other atmospheres."
Moran will also provide information related to the first year of observations of other planets with the Webb telescope, from its first detection of complex chemistry on a warm Saturn to the first hints of an atmosphere on a rocky, Earth-sized planet. In addition, she will put into context what these discoveries mean for finding habitable — and possibly inhabited — worlds in the future, as steps are taken along the road to answering the big question: Are we alone?
In early September 2022, Moran was among the team of scientists that discovered the first detection of carbon dioxide in an exoplanet with the Webb telescope, and her work was featured in a Science magazine article in January.
Moran earned her Doctor of Philosophy degree and Master of Arts degree, both in planetary sciences, from Johns Hopkins University in Maryland, and a Bachelor of Arts degree in astrophysics from Barnard College / Columbia University in New York.
Park University's Johnson Family Lecture Series in Science was established in 2016 to provide members of the community, as well as liberal arts and science majors, an opportunity to experience science in action and hear established scientists discuss their research. The lecture series was established by Park University alumnus George Johnson, '63, Ph.D., who provided funding for the event. Johnson is professor emeritus at the University of Iowa Carver College of Medicine.