Park University's Iconic Mackay Hall Now Bathed in LED Lights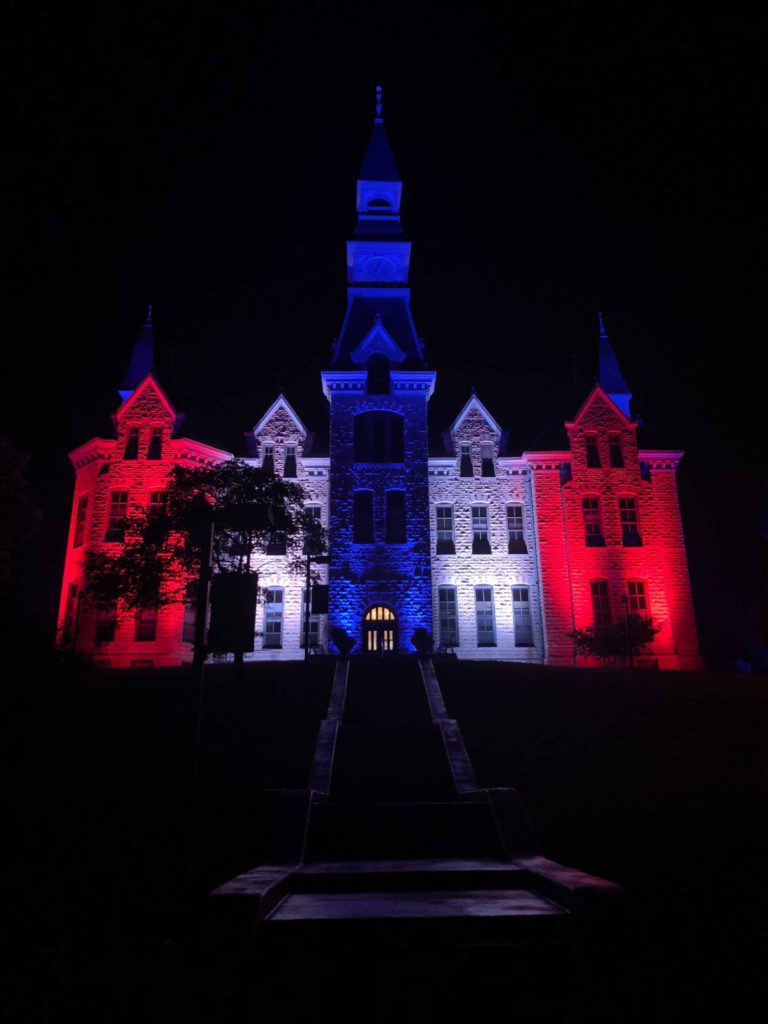 July 12, 2018 — As the fireworks finale of the Parkville Fourth of July Celebration came to an end last week, Park University's historic Mackay Hall was lit up in LED red, white and blue lights to honor "Old Glory."
The lights, permanently installed by DuraComm Lighting, a Kansas City, Mo., based business led by Chief Executive Officer Benny Lee, a past member of Park's Board of Trustees, will allow the University to showcase the iconic building during the overnight hours every day. The default lighting on Mackay Hall will be white, but Park will light the building with appropriate colored lighting for holidays and traditions, such as Christmas and Halloween; canary and wine (Park's official school colors) for special University occasions; and Kansas City Chiefs games (Park is the Chiefs official higher education partner) and other community partners. Park's Office of University Engagement will oversee the system.
This stunning LED proprietary application, created and developed by DuraComm's lighting division, is a new way of creating an outdoor display of LED light. According to Lee, DuraComm's LED team "developed the only custom software in the LED marketplace that permits the designer and end-user to see exactly how their LED lighting displays will appear in true colors on the exterior of their buildings."
The process begins with a series of photographs of the subject (in this case, Mackay Hall), and using proprietary software developed by DuraComm, it develops a 3-D model to manipulate placement and colors to achieve an optimum LED lighting solution for any building. From the computer model, the customer can easily manipulate the colors and movement from their desk. The program is extremely user-friendly for creating unique lighting profiles.
Completed in 1893 overlooking the Missouri River and downtown Parkville, Mackay Hall is celebrating its 125th anniversary this year. Constructed using limestone mined from the grounds surrounding the Parkville Campus and built by students, Mackay Hall was named in honor of Duncan Mackay, a banker from Illinois who donated materials for the structure. Mackay Hall was placed on the National Register of Historic Places in 1979.