Park University's Campanella Gallery to Host Exhibit of Digital Designs
October 3, 2023 — The Campanella Gallery at Park University continues its 2023-24 season with an exhibit of digital design works by Merrick Henry, Friday, Oct. 6, through Friday, Dec. 8. A reception for the exhibit and artist will be held on Friday, Oct. 20, from 2 to 4 p.m. in the Gallery.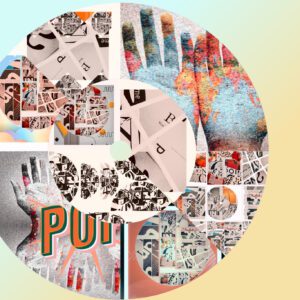 Henry, an assistant teaching professor of graphic design at Park University and a resident of Kansas City, Mo., said that typographic exploration and photography experiments are showcased in the exhibit, a collection of designs that represent his years of teaching, life experiences and work at Park.
"The exhibition explores the relationship between typography and digital photography using four methods — fusion, fragmentation, inversion and separation," Henry said. "The imagery ranges from classroom exercises to client work and personal design ideas, with the aim to connect users into my digital realm."
Henry, who was the co-recipient of Park University's Faculty Newcomer of the Year Award in 2020 after arriving in Fall 2019, has previously taught courses at Johnson County (Kan.) Community College, Kansas City Art Institute, University of Maryland and Savannah (Ga.) College of Art and Design
The Campanella Gallery, directed by Andrea Lee, Ph.D., associate professor of art and design, is located inside Norrington Center on the University's flagship campus in Parkville. The Gallery is open during Norrington Center's regular business hours:
          •  Monday-Thursday, 7:30 a.m. to 9 p.m.; Friday, 7:30 a.m. to 4:30 p.m.; Saturday, 10 a.m. to 4 p.m.; Sunday, 4 to 9 p.m.
                 o  Between Saturday, Oct. 7, and Sunday, Oct. 15, the building will be operating on its Fall Break hours — Monday-Friday, 8 a.m. to 4:30 p.m.; Saturday-Sunday, closed.
                 o  During the Thanksgiving holiday, the building will close early (at 4:30 p.m. )on Wednesday, Nov. 22, and will be closed Thursday, Nov. 23, through Sunday, Nov. 26.