The Center for Global Peace Journalism works with journalists, academics, and students worldwide to improve reporting about conflicts, social unrest, reconciliation, solutions, and peace. Through its courses, workshops, lectures, magazine (The Peace Journalist), blog, and other resources, the Center encourages media to reject sensational and inflammatory reporting, and produce counter-narratives that offer a more nuanced view of those who are marginalized—ethnic/racial/religious minorities, women, youth, and migrants.
MISSION
The Center for Global Peace Journalism at Park University promotes the concepts of peace and peace journalism through seminars, lectures, and courses worldwide, through its website, social media, and The Peace Journalist magazine, and through partnerships with like-minded organizations and individuals.
ABOUT THE DIRECTOR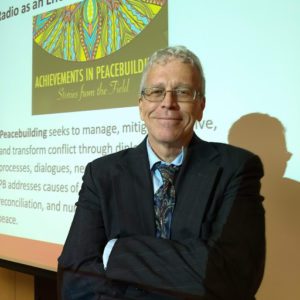 Steven Youngblood is the founding director of the Center for Global Peace Journalism at Park University, where he is also a communications and peace studies professor. He has organized and taught peace journalism seminars and workshops in 30 countries around the world.
Youngblood is a three-time J. William Fulbright Scholar (Moldova 2023-24, Azerbaijan 2007, Moldova 2001), and author of Peace Journalism: Principles and Practices (Routledge/Taylor and Francis-2016) and Professor Komagum (2013). He edits The Peace Journalist magazine, and writes and produces the Peace Journalism Insights blog. He has been recognized for his contributions to world peace by the U.S. State Department, Rotary International, the United Nations Association of Greater Kansas City, and the World Peace Forum/Schengen Peace Foundation, which is awarding him the 2020-21 Luxembourg Peace Prize.