Park University Alumni Association Announces Honorees of 2023 Annual Awards
September 6, 2023 — The Park University Alumni Association has announced the 2023 honorees of its four annual awards. A ceremony recognizing the recipients, along with the University's Athletics Wall of Honor awardees (announced in May), will be held as part of Park's Homecoming and Parents Weekend festivities on Friday, Sept. 29, starting at 3 p.m. in Graham Tyler Memorial Chapel on the University's flagship Parkville Campus. The following is the list of the awardees: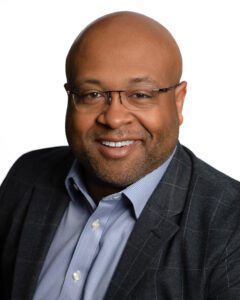 Distinguished Alumnus Award
This award, which recognizes Park alumni who have distinguished themselves through career service or community achievements, will be presented to Michael Collins, 2004 graduate (Bachelor of Arts degree in political science) and a resident of Overland Park, Kan.
Collins is the founder and chief executive officer of Grayson Capital, a minority-owned commercial real estate investment, development and site selection advisory company based in Kansas City, Mo. Previously, Collins was the managing director for JE Dunn Capital Partners LLC, the private equity commercial real estate investment subsidiary of JE Dunn Construction Co. Collins also served a stint as president and CEO of Port KC, the regional Port Authority of Kansas City. He began his career as an advisor to Missouri Sen. Christopher "Kit" Bond, helping lead and implement the policy and financing structure for the National Nuclear Security Administration project, the Christopher S. "Kit" Bond Courthouse in Jefferson City, Mo., and the Kit Bond Bridge in Kansas City, Mo.
Collins is the chair of the Kansas City Streetcar Authority, the nonprofit organization that manages, operates and maintains the streetcar, as well as plans for future streetcar extensions, and he serves on the Urban Land Institute's Global Governing Trustee board and the Americas Executive Committee. Collins, a 2020 recipient of Park University's Tipton Award which honors outstanding service contributions to the University by an alumna/alumnus, also served on Park's Board of Trustees from 2012-21, including a stint as the board chair from 2015-17.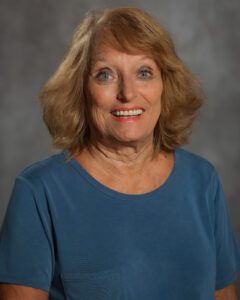 Torchlighter Award
This award is given to honor individuals who have made significant, long-standing contributions and commitment to Park University, whether alumni, faculty or friend. The recipient of this year's award is Pat Fayard, a resident of Parkville who worked in various roles for the University for 38 years.
Fayard, who retired in 2023 after 22 years as the assistant to the athletic director and athletics office manager, also served as Park's cheerleading coach from 1987-2000. Her duties included assisting athletic teams with game-day operations, travel and budgeting. In addition, she was a secretary in the Academic Support Center and in food services. Fayard was inducted into the Park Athletics Wall of Honor in 2019 for meritorious service to the athletics department.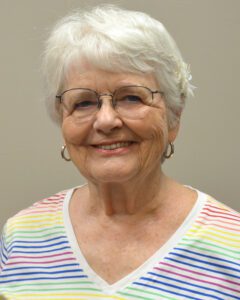 Marlowe Sherwood Memorial Service Award
This award is presented to Park University alumni in recognition of volunteer service to community and/or civic organizations. The award is named in honor of Marlowe Sherwood, 1963 graduate, who exemplified the school motto of Fides et Labor (faith and labor). This year's recipient is Nancy Potter, a 1966 Park graduate (Bachelor of Arts in mathematics) and a resident of Weatherby Lake, Mo.
Potter, who retired in 2008 from Waddell & Reed (an asset management and financial planning company based in Kansas City, Mo.) after a 40-plus year stint, mostly as a senior systems analyst, has served on various Park-related groups over the years, including the University's Alumni Council and the Save Park House project in 2019 (when the building was moved from the University's main entrance to a new location on campus). In addition, she has participated in various community groups, including the Weatherby Lake Garden Club and the annual Parkville Microbrew Festival.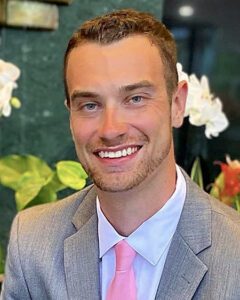 Park Promising Young Professional Award
This award recognizes a Park University alumnus/a who graduated from Park within the last 10 years, is under the age of 40 and shows exceptional leadership promise in his or her profession and community. This year's recipient is Paul Bilanzic, J.D., a 2015 graduate (Bachelor of Science degree in business administration/finance) and a resident of Tinley Park, Ill.
Bilanzic has been an attorney since January 2021 with the law firm his father started in 1980, Bilanzic Law, based in Worth, Ill. While at Park, Bilanzic was a member of the men's volleyball team which won the NAIA National Invitational Tournament in 2012 and 2014. He currently plays part-time in the Volleyball League of America with the Chicago Sweed.
*****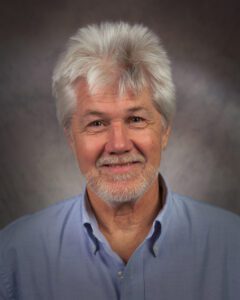 In addition, the University's Office of Academic Affairs will honor Dennis Okerstrom, Ph.D., professor emeritus of English, as the recipient of the 2023 Paul H. Gault Service Award. A ceremony recognizing Okerstrom will be held on Thursday, Sept. 28, starting at 1 p.m. at the Jenkin and Barbara David Theater inside Alumni Hall on the University's Parkville Campus. The award is presented annually to a retired Park University faculty or staff member who provided a minimum of 15 years of distinguished service to the University, with special consideration given to individuals who held volunteer leadership positions within the University or in the community as a University representative. This award is named Gault, '65, MPA '88, whose dedicated service to Park spanned more than five decades. Okerstrom, a resident of Independence, Mo., served Park's Department of English from 1987-2018.