The Crow's Nest — May 2, 2018


Park University and Kansas City Chiefs announce higher education partnership
Park University and the Kansas City Chiefs have announced that the NFL club has signed a partnership agreement with the University to become the Chiefs' first-ever Official Higher Education Partner.
The new partnership will offer Park students numerous professional development opportunities, as executive members of the Chiefs organization will visit the campus for speaking engagements each quarter. As part of the partnership, Park will become the presenting partner of the Chiefs Seasonal Assistant Program. The club will work with Park to create new concepts to further the program at the organization while giving Park students the opportunity to interview for a position in the program. In addition, Chiefs employees will be offered a tuition assistance program. Any eligible Chiefs employee, coach or player will be qualified to receive reimbursement per any 12-month period for tuition while enrolled at Park University.
Park was this year's presenting partner at the Chiefs Draft Day III event held at Fort Riley, Kan., on April 28. The Chiefs will also recognize a Park student or graduate that is a military veteran during the club's annual Salute to Service game this season. Read more about the partnership at park.edu/news/chiefs-higher-education-partnership.
Park campus centers hold commencement ceremonies
Park University campus centers across the country have held commencement ceremonies for 2018 graduates. As these ceremonies continue through the year, we'll include the link to the news releases announcing the list of graduates at each campus.
          •  Grand Forks (N.D.) Air Force Base Campus
          •  Moody Air Force Base (Ga.) Campus
Academic, leadership achievements recognized at Honors Convocation, Howell Awards
Park University students, faculty and staff were recognized for their exceptional scholarly efforts from the 2017-18 academic year at the University's annual Honors Convocation on April 25, held in Graham Tyler Memorial Chapel on the University's Parkville Campus.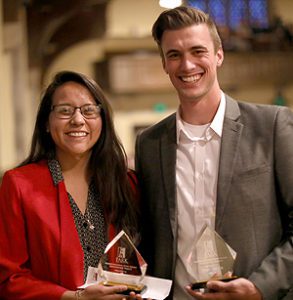 The most prestigious honor bestowed on any student at Park University — the Outstanding Parkite Award — went to seniors Margarita Araiza, senior secondary education/biology major, and Ryan Zitter, senior biology major. The Outstanding Parkite Award is given to one senior female and one senior male student on the University's Parkville Campus who best exemplify the ideals of the University in their character, conduct, scholarship and student activity participation. The awards are endowed by Dr. Elliot F. Parker in memory of his parents, Albert George and Jessie Bewley Parker. Read about all of the students, faculty and staff who were recognized at the event, including additional Presidential Awards presented, at park.edu/news/honors-convocation-2018.
In celebration of the leadership achievements of Park University students, faculty and staff during the 2017-18 academic year, the Office of Student Life and the Park Student Government Association co-hosted the 23rd annual Dr. Doris A. Howell Leadership Awards on April 18 on the University's Parkville Campus. The event is named for Howell, a 1944 Park graduate and an internationally renowned leader in pediatrics and hospice care. Read about the awards presented at that event at park.edu/news/howell-awards-2018/.
President and CEO of the Urban League of Greater Kansas City to present keynote address at Park's KC Area Commencement
Gwendolyn Grant, president and chief executive officer of the Urban League of Greater Kansas City, will present the keynote address at her alma mater during Park University's Kansas City Area Commencement on Saturday, May 12. The ceremony will be held at the Community of Christ Auditorium, 1001 W. Walnut in Independence, Mo., starting at 10 a.m. The event will include 628 Park University students eligible to graduate and participate in the ceremony — 285 students are set to receive a master's degree and/or graduate certificate, and 343 students are scheduled to receive a bachelor's degree, associate degree and/or undergraduate certificate.
Grant, who earned a Bachelor of Arts degree in business administration from Park in 1994, became the first female leader of the Urban League of Greater Kansas City in 2001. In her role with the ULGKC, she provides leadership, oversight and direction for advancing the programs and the mission of the organization, and she advocates for social and economic opportunities for African-Americans and women in the Kansas City region. Grant also promotes the Urban League's race relations and social justice agenda. For more information about Grant and the Commencement ceremony, visit park.edu/about-park/commencement/.
Park athletics to add beach volleyball program
Park University's Department of Athletics is expanding again as the University will add a collegiate beach volleyball program for the 2018-19 academic year. The team will be coached by current men's and women's volleyball head coach Mike Talamantes, with the season beginning in the Spring 2019 semester. "I've never coached beach volleyball before, but I have an incredible resource in (current women's volleyball player) Nada Meawad, who played it in the Olympics for Egypt," Talamantes said. "We've got talented players, but we're looking for more to really build this program right."
The Pirates will play its matches at English Landing Park across from the University's flagship campus in Parkville, Mo. Talamantes expects for a portion of his current women's volleyball roster to compete for the team, but recruiting is already under way for designated beach volleyball players. Potential student-athletes interested in playing collegiate beach volleyball for the Pirates should contact Talamantes at michael.talamantes@park.edu or (816) 584-6490. Read more about the beach volleyball program at parkathletics.com/article/2357.php.
Two more selected for Park Athletics Wall of Honor
Harold "Hal" Henderson, '64, and a 1988 NAIA Hall of Fame inductee, and Simon Mulama, '06, a three-time NAIA All-American in men's soccer, have been announced as the fourth and fifth inductees to the Park Athletics Wall of Honor Class of 2018. Henderson's induction into the NAIA Hall of Fame was in the category of meritorious service in the sport of soccer following a coaching career that spanned parts of four decades, where he amassed 193 wins. He was active in the NAIA's national soccer coaches committee, and during his career he was also a certified athletic trainer. While at Park, Henderson was a multisport athlete, most notably as a four-year letterwinner in the men's soccer program. He was captain of the Pirates' 1962 NAIA national tournament team and also competed in basketball (three years), track and field (two years) and tennis (two years) at Park. Read more about Henderson and his accomplishments at parkathletics.com/article/2315.php.
Mulama, a midfielder, earned NAIA All-American status in 2002, 2004-05, in helping lead one of the most potent offensive teams in NAIA soccer. "Simon was by far one of the best players we have ever had at Park," said men's soccer head coach Efrem Shimlis. "He was not flashy and didn't score a lot of goals, but if you are a soccer person, you could see that he was the one controlling each game." Read more about Mulama at parkathletics.com/article/2356.php.
Art exhibit features graduating students
A trio of Park University fine art students are exhibiting their work as part of their senior thesis through Thursday, May 31, in the University's Campanella Gallery. Admission to the gallery, located within Norrington Center on the Parkville Campus, is free. A reception for the artists will be held Friday, May 11, from 2:30 to 4:30 p.m. in the Gallery. Students featured in the exhibit, all seniors majoring in fine art, are: Kealy Houlahan, Stevie Smith, and Yubo Zheng. Read more about the exhibit at park.edu/news/senior-thesis-exhibit/.
Faculty, staff, student news

Gail Hennessy, assistant professor of education, was recognized by the Northland (Kansas City) Regional Chamber of Commerce during its annual Excellence in Education event on April 24. Hennessy received Park University's Excellence in Higher Education Award for her work on redesigning Park's undergraduate teacher preparation program, a project that took two years to complete.
Kay Barnes, senior academic ambassador and liaison, and Laurie DiPadova-Stocks, Ph.D., professor of public administration, co-facilitated a discussion on "Are Youth Ready to Engage and Lead?" at the ReThink Ed community event in Kansas City, Mo., on April 26.

Tami Radohl, Ph.D., assistant professor of social work and director of field education, was a featured speaker at the J.V. Caprez Social Work Field Day in Hays, Kan., on April 6. The topic was "Differential Diagnosis Between Traumatic Brain Injury and Anxiety, Depression, Autism and ADHD."
Four students in Park University's Department of Social Work presented at the Association of Baccalaureate Social Work Program Directors conference in March in Atlanta.
          •  Nicki Clevenger, senior, "Educating Social Work Students about Secondary Traumatic Stress and Preventative Measures"
          •  Corbie Krogman, senior, "Living and Dying with the ACA – Student Knowledge of Issues Related to Organ Donation and Access to Healthcare"
          •  Erica Potter, graduate student, "Socioeconomic Factors Affecting Hospital Readmission Rates"
          •  Crystal Swope, senior, "Strengthening Domestic Violence Training for CASA Volunteers to Promote Understanding and Empathy"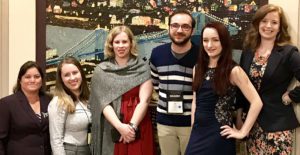 Five students in Park's Department of English and Modern Languages presented at the Sigma Tau Delta International Convention in March in Cincinnati.
          •  Breanne Cowley, senior English writing major, critical paper "The Terror of Unknown Americans"
          •  Sharron Doyle, senior English writing and fitness and wellness major, critical paper "American Grit: The Book of Unknown Americans" and a collection of poetry "Poems of War"
          •  Morgan Forbach, senior, English writing and secondary education major, critical paper "Writing Process of Honors and Non-Honors Students"
          •  Alayna Howard, senior English writing major, critical paper "Absent Presence and the State of Being Unknown" and a dramatic work "Forty-Three Days"
          •  Austin Pool, senior English writing major, critical paper "Rare Gender Roles in The Book of Unknown Americans." Pool's paper won second prize for the best paper about the convention's common reader.
In addition, Stacey Kikendall, Ph.D., assistant professor of English, moderated a panel on "Life, Liberty and the Pursuit of Original Poetry." Park's Sigma Tau Delta chapter also received a plaque to commemorate its 20th anniversary.
Terrence Ward, Ph.D., assistant professor of public administration, as part of his duties as a board member of the North Kansas City (Mo.) School District, co-presented two sessions at the National School Boards Association annual conference, April 7-9 in San Antonio. Ward presented on "Changing Paradigms: Our District's Journey in Adding 31 Days of Instruction" and "Creative Financing that Increases Resources."
Melinda Brown-Mason, adjunct instructor of English, presented a session on "Turning Listening on its Ear" at the TESOL 2018 International Convention and English Language Expo, March 28 in Chicago. The session explained how connected speech features and pronunciation practice are essential to improving English language learners' listening comprehension. Brown-Mason has delivered similar sessions to adult education educators in Missouri as a part of professional development offerings by the Department of Elementary and Secondary Education.
Park In The News
Sophie Fatu, daughter of Cristian Fatu, '08, '10, and Victoria Martirosyan Fatu, '10, is on her way to super stardom at only 5 years old. Sophie has been featured recently on NBC's "Little Big Shots," singing Frank Sinatra's "My Way," as well as an appearance on "The Ellen DeGeneres Show" where she performed Sinatra's "Fly Me to the Moon." Sophie and Victoria were also interviewed on WSAZ-TV on April 13 in their current hometown of Charleston, W.Va. Sophie will also be on the upcoming season of NBC's "America's Got Talent," which premieres on Tuesday, May 29.
Chief Master Sgt. Robert Dandridge, '04, has been appointed the national command chief for the Civil Air Patrol, according to an article published on the AviationPros website. As national command chief, Dandridge head the CAP's noncommissioned officer corps.
Terrence Ward, Ph.D., assistant professor of public administration, provided comments for a story that appeared on KCUR-FM in Kansas City on April 11. The story was related to the Missouri legislature looking at passing a bill related to tax increment financing. Ward was also interviewed by KSHB-TV in Kansas City for a similar story related to public schools missing out on funds due to TIFs.
Park University was recognized by Victory Media on its 2018-19 Military Friendly Schools list. The University received a "gold" designation in the "private, not offering doctorate" category.
Jeanette Prenger, '09, vice chair of Park University's Board of Trustees, was named to the Kansas City Business Journal's "Power 100," a list of 100 business leaders in the Kansas City region to know. Prenger is the president and founder of ECCO Select, a technology and human enterprise consulting firm in Kansas City, Mo.
A story related to the 30-year anniversary of a missing man from Linwood, Kan., which included comments from Eugene Matthews, Ph.D., associate professor of criminal justice administration, aired on WDAF-TV in Kansas City on April 16. The story about the unsolved case of high school student Randy Leach, who has been missing since 1988, was produced by Park alumna Lisa McCormick, '83.
Sheina Fernandes, a graduate student pursuing a Master of Business Administration degree, will be the keynote speaker at the Seward County (Kan.) Community College commencement on Saturday, May 5. A story about Fernandes and her life journey appeared in the High Plains Daily Leader (Liberal, Kan.) on April 17.
Matt Harris, Ph.D., assistant professor of political science, provided comments for a story that aired on KSHB-TV on April 18 related to Missouri Gov. Eric Greitens filing a request for a temporary restraining order against Mo. Attorney General Josh Hawley. On April 19, Harris appeared on KSHB-TV's "Midday" newscast for a live, in-studio interview to talk about the Greitens case.
Patty Ryberg, assistant professor of biology, appeared on the KSHB-TV program "Nichols at Night" program for a half-hour interview to discuss her research trip to Antarctica over the winter break.
The grounds of Park University's Parkville Campus were featured in the April 18 edition of The Platte County (Mo.) Citizen as part of the newspaper's "Spring Home Improvement Home and Garden" special section. John Bower, manager of facilities maintenance and Adam Stone, head of grounds, talked about how University facilities staff maintains the University's grounds and provided tips for homeowners.
A story about the 1900 Building in Mission Woods, Kan., where Park University's International Center for Music hosts its 1900 Building series of concerts, appeared on KCUR-FM in Kansas City on April 27. The story included comments from Roger Kugler, D.M.A., director of the ICM, Lolita Lisovskaya-Sayevich, director of collaborative piano, David Radzynski, ICM alumnus and concertmaster for the Israel Philharmonic Orchestra, and Steve Karbank, co-chair of the International Center for Music Advisory Council.
Stephen Bell, Ph.D., J.D., professor of economics, was interviewed for a story that aired on KCTV in Kansas City on April 29 related to Sprint and T-Mobile reaching an agreement to form a new company.
Park University degree programs have been ranked by various websites:
          •  Criminal justice administration program ranked No. 20 in the country on BestValueSchools.org's 2018 "Best Criminal Justice Programs" list
          •  The online Master of Healthcare Administration ranked No. 1 in the country on GradSchoolHub.com's "30 Most Affordable Master's in Health Administration Degrees Online: Private Non-Profit Colleges 2018" list.
Upcoming Events
(All events are Central time)
     •  Through May 31 — Fine Arts Seniors Thesis Exhibit, Campanella Gallery (Reception: May 11, 2:30-4:30 p.m.)
     •  May 2 — Fort Irwin (Calif.) Campus Commencement, 5 p.m., Sandy Basin Community Center
     •  May 4 — Graphic Design Senior Exhibit Show: "Designers Strike Back," 5-9 p.m., Lifted Spirits Distillery, Kansas City, Mo.
     •  May 10 — Tinker Air Force Base (Okla.) Campus Commencement, 4:30 p.m., Tinker Club Ballroom
     •  May 11 — Beaufort (S.C.) Marine Corps Air Station Campus Commencement, 2 p.m., Marine Corps Recruiting Depot Parris Island Theater
     •  May 11 — International Student Sash Ceremony, 5 p.m., Graham Tyler Memorial Chapel
     •  May 12 — Kansas City Area May Commencement, 10 a.m., Community of Christ Auditorium, Independence, Mo.
     •  May 13 — Spring Semester / Spring II Terms Ends
     •  May 14 — Maymester Begins
     •  May 17-18 — Board of Trustees Meeting, Parkville Campus
     •  May 17 — Hanscom Air Force Base (Mass.) Campus Commencement, 1:30 p.m., Minuteman Commons
     •  May 18 — Naval Support Activity Mid-South Millington (Tenn.) Campus Commencement, 1 p.m., Pat Thompson Recreation Center
     •  May 18 — Malmstrom Air Force Base (Mont.) Campus Commencement, 2 p.m., Heritage Hall at Great Falls College – Montana State University
      •  May 18 — Little Rock (Ark.) Air Force Base Campus Commencement, 6:30 p.m., Jacksonville (Ark.) Community Center
     •  May 19 — Luke Air Force Base (Ariz.) Campus Commencement, 11 a.m., Club 56
     •  May 20 — Northland Community Choir Concert: "In Memoriam: A Musical Tribute to the Veterans of War," 3 p.m., Graham Tyler Memorial Chapel
     •  May 21 — Whiteman Air Force Base (Mo.) Campus Commencement, 6 p.m., Mission's End
     •  May 25 — Austin (Texas) Campus Commencement, 7 p.m., Great Hills Baptist Church
     •  May 27 — Maymester Ends
     •  May 28 — Memorial Day Holiday (All University offices closed nationwide)
     •  May 31 — Cherry Point (N.C.) Marine Corps Air Station Campus Commencement, 9 a.m., Two Rivers Theater and Event Center
     •  May 31 — Barstow (Calif.) Community College Campus / Victor Valley College (Calif.) Campus Commencement, 5 p.m., Barstow Community College Performing Arts Center
     •  June 4 — Summer Session / Junemester Begin
     •  June 5 — F.E. Warren Air Force Base (Wyo.) Campus Center Commencement, Noon, Trails End Club
     •  June 7 — Fairchild Air Force Base (Wash.) Campus Center Commencement, 4 p.m., Base Theater
      •  June 7 — Scott Air Force Base (Ill.) Campus Center Commencement, The Regency Conference Center, O'Fallon, Ill.
     •  June 9 — Davis-Monthan Air Force Base (Ariz.) Campus Center Commencement, Fox Tucson Theatre
     •  June 15 — Hill Air Force Base (Utah) Campus Center Commencement, Noon, Davis Conference Center, Layton, Utah
Note: To view a comprehensive schedule for all events, including athletics and student life, visit park.edu/calendars/park-events-calendar.html.