Park campus centers hold commencement ceremonies
Park University campus centers across the country have held commencement ceremonies for 2018 graduates. As these ceremonies continue through the year, we'll include the link to the news releases announcing the list of graduates at each campus.
          •  Kansas City Area
                 o  Read the keynote speech presented by Gwendolyn Grant, '94, president and chief executive officer, Urban League of Greater Kansas City, and view selected photos from the ceremony
          •  Austin (Texas) Campus
          •  Beaufort (S.C.) Marine Corps Air Station Campus
          •  Fort Irwin (Calif.) Campus
          •  Hanscom Air Force Base (Mass.) Campus
          •  Little Rock (Ark.) Air Force Base Campus
          •  Luke Air Force Base (Ariz.) Campus
          •  Malmstrom Air Force Base (Mont.) Campus
          •  Mountain Home (Idaho) Air Force Base Campus
          •  Naval Support Activity Mid-South Millington (Tenn.) Campus
          •  Tinker Air Force Base (Okla.) Campus
          •  Whiteman Air Force Base (Mo.) Campus
Gunderson, Jarrard honored by KC ASPA chapter
Park University President Greg Gunderson, Ph.D., was honored on May 9 by the Greater Kansas City Chapter of the American Society for Public Administration as its 2018 Nonprofit Public Administrator of the Year. The honor acknowledges outstanding performance in the practice of public administration. Gunderson was cited for the University's consistent enrollment growth, the opening of Park's Lenexa Campus in 2017 and for spearheading the University's Year of Inclusion and Year of Diversity efforts.
In addition, Zac Jarrard, '16, '18, received the GKC-ASPA Stanley Fisher Award which recognizes outstanding graduate and undergraduate students of public administration who have shown interest and dedication to the field beyond their classroom work. Jarrard's persistence in pursuing an opportunity for Park Business and Investment Club members to meet one of the most successful investors in the world, Warren Buffett, paid off in February as students traveled to Omaha, Neb., to participate in a "Student Q&A" with Buffett.
FCI announces faculty 2018-19 faculty fellows
Park University's Faculty Center for Innovation has announced that five Park faculty have been selected to be 2018-19 Faculty Fellows. The Faculty Fellows program allows faculty the time and resources to engage in and experiment with innovative teaching practices, and to contribute to the development of learning across the University. Those selected are:
          •  Linda Bell, lecturer of accounting
          •  Kathy Jackson, assistant professor of nursing
          •  Erica Jansen, adjunct instructor of English
          •  Tami Radohl, Ph.D. assistant professor of social work
          •  Brant Winn, Ph.D., assistant professor of education
Read more about the program and the 2018-19 Faculty Fellows at innovatepark.org/faculty-fellows.
Photographer, Park alumnus to showcase photos from Kenya in Campanella Gallery exhibit
Carl Gregory, a 2011 Park University graduate, will exhibit photographs he captured during recent mission trips to Kenya in the University's Campanella Gallery, Monday, June 4, through Friday, July 27. Admission to the Gallery, located within Norrington Center on the Parkville Campus, is free. A reception for the artist will be held on Friday, July 6, from 2:30 to 4:30 p.m. in the Gallery.
Gregory, a multidisciplinary artist, assisted two organizations — Eagle Projects International and Lifeway International — by providing photography on mission trips to Kenya where both organizations trained local leaders and offered medical assistance. In his artist's statement about the exhibit, Gregory said, "I had the opportunity to see various and beautiful tribes of Kenya, capturing portraiture of each and the unique hues of humanity they and their lands offered my lens. I was blessed to meet people of different cultures and languages in their own lands. I hope this photography provokes joy, curiosity and respect, and dispels the otherness of fear while expressing the uniqueness of each beautiful tribe. Read more about the exhibit at park.edu/news/gregory-photography-exhibit/.
Volunteers requested for Heart of America Stand Down
Park University's Department of Military and Veteran Student Services, home of the Park Global Warrior Center, is looking for volunteers to support Kansas City's homeless veterans during the region's next Heart of America Stand Down event on Friday, June 8, from 7 a.m. to 2 p.m., at St. Michael's Veterans Place in Kansas City, Mo. Park faculty, staff and students will meet at the Herr House parking lot on the Parkville Campus at 6:15 a.m. to convoy to the event.
The Heart of America Stand Down brings together more than 70 community service groups and organizations from the Kansas City area to provide assistance and help rid the barriers that prevent homeless veterans from re-entering society as engaged, productive citizens and live more fulfilling lives. Assistance offered includes medical, substance abuse, legal issues, taxes, housing and utility assistance, family counseling, spiritual, mentorships, educational and employment opportunities, and haircuts. Approximately 500 veterans and dependents are planned to participate.
Those interested in volunteering should contact Sarah Weygand, program coordinator of military and veteran student services, at sweygand@park.edu or (816) 584-6544 by Friday, June 1. New volunteers will receive a PGWC T-shirt (please provide your size).
In addition, the PGWC is collecting donations of new underwear (men's/women's), undershirts, socks, sunscreen, deodorant and other various toiletries. Donations can be dropped off in the Park Global Warrior Center on the first floor of Thompson Commons on the Parkville Campus at any time before the event. For additional information about the Heart of America Stand Down, visit kcstanddown.org.
University's 2017-18 student magazine published
Park University's annual student magazine, Narva, is now available. The publication is written, photographed and published by students in the multimedia journalism and public relations programs for Park students. This year's Narva is focused on the people who make Park University what it is — human, quirky and endlessly diverse. According to John Lofflin, professor of journalism and Narva adviser, "It tells the stories of the unsung heroes among us, the 'ordinary extraordinary' people who bolster our character and students who finished, in poetic form, the starter prompt: 'Where I'm from….'"
Faculty, staff, student news
Stacey Kikendall, Ph.D., assistant professor of English and associate director of the Faculty Center for Innovation, authored a review of The Shelley-Godwin Archive that was published in the spring issue of ABO: Interactive Journal for Women in the Arts, 1640-1830. The Shelley-Godwin Archive a digital humanities project focused on one of the most famous families in British literature, offering a collection of digitized and transcribed manuscripts of Percy Bysshe Shelley, Mary Wollstonecraft Shelley, William Godwin and Mary Wollstonecraft.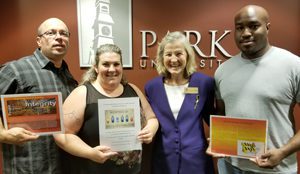 Students at Park University's Austin (Texas) Campus received funds from a grant by the Texas Council of Institute of Management Accountants Memorial Education Fund for resource materials in management accounting for a CMA study lab. The grant provided subscriptions to the Strategic Finance and Journal of Accountancy publications, and copies of the book, Curt Verschoor on Ethics. Students in the AC 202 (Principles of Managerial Accounting) course taught by Jolene Lampton, Ph.D., associate professor of accounting and management, constructed fliers depicting ethical messages from articles in the book. A flier designed by Jose Rodriguez was selected as the top choice.
Park In The News
Matt Harris, Ph.D., assistant professor of political science, was interviewed by KSHB-TV for a story that aired on May 2 related to a report that Missouri Gov. Eric Greitens used a charity donor list to use for political fundraising.
Harris was interviewed again on May 14 for a story on KSHB-TV following an announcement that the invasion of privacy criminal case against Greitens was dismissed.
Upon the announcement from Greitens on May 29 that he was resigning as governor effective June 1, Harris appeared in a live, on-set interview on KSHB-TV, and he was later interviewed for a story that aired on WDAF-TV in Kansas City, providing analysis about what the resignation means for the State of Missouri.
A review of a concert on April 27 by the Kansas City Chamber Orchestra and students of the Park University International Center for Music appeared on the KCMetropolis website on May 1.
KC Studio celebrated its 10th anniversary of publication with a look back on "A Decade of Cultural Milestones" in its May/June issue. The feature included three Park University International Center for Music milestones: Behzod Abduraimov winning the London International Piano Competition in 2009; David Radzynski being appointed concertmaster of the Israel Philharmonic Orchestra in 2015; and Kenny Broberg winning the silver medal at the Van Cliburn International Piano Competition in 2017.
Victor Morales, a junior business administration/human resources and business administration/marketing major, provided comments for a story that appeared in the Columbia (Mo.) Tribune on May 9, which indicated that the Missouri legislature would pass a budget that denies in-state tuition and financial aid to undocumented immigrants, including those registered under the Deferred Action for Childhood Arrivals program.
Syed Jamal, adjunct instructor of chemistry, who made news worldwide this spring in the aftermath of his deportation drama, was featured on WDAF-TV in Kansas City on May 8 with a five-minute story about his immigration status and the complicated process to become a U.S. citizen.
Terrence Ward, Ph.D., assistant professor of public administration, appeared on the KCUR-FM in Kansas City program "Up To Date" on May 9. Ward was interviewed in a 24-minute segment about tax increment financing. Ward is a board member of the Kansas City, Mo., TIF Commission.
Stories about Darryl Forte, '90, being appointed as the interim sheriff of Jackson County (Mo.), appeared in The Kansas City Star and The Examiner  (Independence, Mo.) on May 11. Forte was the Kansas City, Mo., chief of police for six years before retiring in the spring of 2017.
Brad Maxwell, '11, was confirmed by the U.S. Senate to be the new U.S. marshal for Southern Illinois. A story about Maxwell being confirmed appeared in the Belleville (Ill.) News-Democrat on May 11.
Cynthia Levin, '77, appeared on the KSHB-TV (Kansas City) program "Nichols at Night" the night of May 20 for a half-hour interview. Levin, who was also awarded an honorary doctorate from Park in 2002, is the producing artistic director of Kansas City's Unicorn Theatre. Earlier this year, Levin was honored with the Kathryn V. Lamkey Award from the Actor's Equity Association, the union for professional actors and stage managers.
A story about the Park University Fort Irwin (Calif.) Campus commencement ceremony on May 2 appeared in the Victorville (Calif.) Daily Press on May 22. The article included comments from Erika Gleason, campus director, and graduate Ruby Shaw.
A story about three Park University students winning awards from Kansas City area branches of the American Association of University Women appeared in The Kansas City Star on May 30. ShaVaughn Holloway, a senior English writing major, received the Parkville (Mo.) Branch Re-Entry Scholarship. She was pictured with branch president and Park director of academic support services Debra McArthur. Cherie Servello, senior social psychology major and Crystal Swope, '18 and currently pursuing a Master of Social Work degree, both received Greater Kansas City Interbranch Council Re-Entry Awards. The awards honor women who have overcome obstacles to enter or return to college after being out of school for at least five years.
A story about Tim Cordill, '03, appeared on the WyandotteDaily.com website on May 29. Cordill works as a baseball umpire at the NCAA Division I level.
Hinston Robinson, '74, was the focus of a story that appeared in the Redstone Rocket, a newspaper published at Army Garrison-Redstone, in Decatur, Ala., on May 30. The article is a part of a series about Vietnam veterans as the U.S. commemorates the 50th anniversary of the Vietnam War.
Park University online degree programs have been ranked:
•  Bachelor of Science in Logistics was ranked No. 7 by TheBestSchools.org on its "10 Best Online Bachelor's in Supply Chain and Logistics Programs" list.
•  Master of Public Administration was ranked No. 4 by GreatValueColleges.net on its "Top 50 Great Value Public Administration Master's Online 2018" list.
Upcoming Events
(All events are Central time)
     •  Through May 31 — Fine Arts Seniors Thesis Exhibit, Campanella Gallery
     •  May 31 — Marine Corps Air Station Cherry Point (N.C.) Campus Commencement, 9 a.m., Two Rivers Theater and Event Center
     •  May 31 — Barstow (Calif.) Community College Campus / Victor Valley College (Calif.) Campus Commencement, 5 p.m., Barstow Community College Performing Arts Center
     •  June 4 — Summer Session / Junemester Begin
     •  June 4-July 27 — Carl Gregory Photography Exhibit: Images of Kenya, Campanella Gallery (Norrington Center) (Reception: July 6, 2:30-4:30 p.m.)
     •  June 5 — F.E. Warren Air Force Base (Wyo.) Campus Commencement, Noon, Trails End Club
     •  June 7 — Fairchild Air Force Base (Wash.) Campus Commencement, 4 p.m., Base Theater
     •  June 7 — Scott Air Force Base (Ill.) Campus Commencement, The Regency Conference Center, O'Fallon, Ill.
     •  June 9 — Davis-Monthan Air Force Base (Ariz.) Campus Commencement, Fox Tucson Theatre
     •  June 15 — Hill Air Force Base (Utah) Campus Commencement, Noon, Davis Conference Center, Layton, Utah
     •  June 18-19 — Park University Campus Center Leadership Conference, Parkville Campus
     •  July 1 — Junemester Ends
     •  July 2 — Julymester Begins
     •  July 4 — Independence Day Holiday (all University offices closed nationwide; Summer Session/Julymester classes held as scheduled)
     •  July 13 — Laughlin Air Force Base (Texas) Campus Commencement, 1 p.m., Anderson Hall
     •  July 13 — Goodfellow Air Force Base (Texas) Campus Commencement, 2 p.m., Base Event Center
     •  July 20 — Minot (N.D.) Air Force Base Campus Commencement, 6 p.m., James Crawford Airman Leadership School Building Auditorium
     •  July 20 — El Paso (Texas) Campus / Fort Bliss (Texas) Campus / Holloman Air Force Base (N.M.) Campus Commencement, 8 p.m., El Paso Convention and Performing Arts Center
     •  July 29 — Julymester / Summer Session Ends
Note: To view a comprehensive schedule for all events, including athletics and student life, visit park.edu/calendars/park-events-calendar.