Former Park University Trustee and Kansas City Business Leader Peter de Silva to Present Leadership Program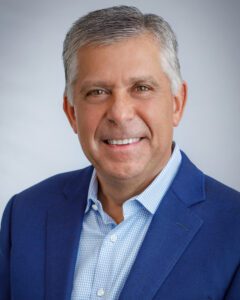 March 22, 2023 — Peter de Silva, former president and chief operating officer at UMB Financial Corp. and chair/CEO at UMB Bank, will present an invitation-only conversation on leadership during a program on Wednesday, April 5, from 9 to 10 a.m. at the National World War I Museum and Memorial.
de Silva, who was a 2021 senior fellow at Harvard University's Advanced Leadership Initiative, has captured and distilled his learnings into a set of principles for everyone to use. His new book, Taking Stock: 10 Life and Leadership Principles from My Seat at the Table (available March 23 on Amazon), offers readers an invitation to reflect on the key decisions and experiences that got them to this point in their life and their career, and where they might be headed. Taking the time to take stock of one's life's purpose, career and relationships is a highly worthwhile endeavor.
In the book, de Silva reflects on his lessons learned from his seat at the table during the financial industry's historically turbulent times. In Taking Stock, de Silva has identified 10 practical leadership principles forged under pressure in the company of great leaders and great industry stress. It's also a story of de Silva's lifelong struggle to be authentic and transparent, while keeping his rare chronic disease (Charcot-Marie-Tooth) a secret. Taking Stock is the transformative tale of how he came to understand that vulnerability is a core element of leadership strength.
de Silva served as president/CEO of UMB Financial Corp. from 2004-15, and chair/CEO of UMB Bank from 2004-12, before leading the retail and institutional divisions for Scottrade Financial Services and serving on the company's board and executive leadership team. He also served as president of TD Ameritrade's retail business before the organization was sold to Charles Schwab. In addition, he was an executive at Fidelity Investments from 1987-2004 in several leadership roles, including senior vice president/general manager of Fidelity Retail, and senior vice president of Fidelity Brokerage Co.
Among his board service in the Kansas City region, de Silva was a member of Park University's Board of Trustees from 2006-15 and at the National World War I Museum and Memorial. He will be recognized by the University with an honorary degree (Doctor of Humane Letters) during Park's commencement ceremony on Saturday, May 6, at Cable Dahmer Arena in Independence, Mo.
Register for book updates, read de Silva's blog and learn more about Taking Stock at peterjdesilva.com.