Park University's Kansas City Area Commencement Set for May 6
April 24, 2023 — Cliff Illig, principal owner of Major League Soccer's Sporting Kansas City franchise and retired co-founder of Cerner Corp., will present the keynote address during Park University's Kansas City Area Commencement on Saturday, May 6. The ceremony will be held at Cable Dahmer Arena in Independence, Mo., starting at 10 a.m.
The event will include 705 Park University students eligible to participate in the ceremony — 218 students are set to receive a master's degree and/or graduate certificate, and 487 students are scheduled to receive a bachelor's degree, associate degree and/or undergraduate certificate.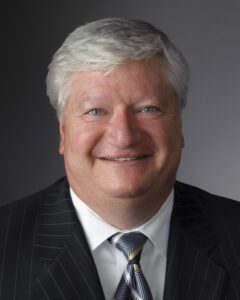 Illig, a Kansas City businessman, entrepreneur, venture capitalist and sport team owner, co-founded Cerner in 1979. He was instrumental in its decades-long growth to become the world's largest independent health information technology company and Kansas City's largest private-sector employer. Illig retired from Cerner in 2019 to give more time to diverse business and civic interests, including entrepreneurial and economic development. In the four decades Illig was with Cerner, he served in a variety of leadership roles, including stints as president, chief operating officer and board vice-chair.
In 2006, Illig and three partners purchased Sporting Kansas City from legendary sports entrepreneur Lamar Hunt. Through a visionary drive to create a world-renowned soccer-specific stadium, brand, analytics and fan experience, Illig and his partners have been credited with proving that soccer can be successful in small-market cities. Within MLS, Illig serves on its Board of Governors and as chair or as a member of several of its key committees.
Illig also served as co-chair of the successful bid to bring the FIFA World Cup to Kansas City in 2026. With Kansas City being one of the 16 host cities, Illig is spearheading planning efforts with a core group of leaders.
With his sons, Illig is also a partner in The Illig Family Enterprise Company, established in 2010 as the parent company for the family's holdings and investments.
Illig is a substantial presence in Kansas City's entrepreneurial, life sciences and business development scenes. An active angel investor, Illig serves as an adviser to several Kansas City-area startup companies. He established Enterprise KC, a cybersecurity initiative aimed at promoting the growth of high-potential local businesses and entrepreneurial ventures.
As one of Kansas City's visible leaders, Illig serves on several civic boards and organizations. He is a member of the Board of Directors for the American Royal and the Stowers Resource Management Board, a supporting organization of the Stowers Institute for Medical Research. He is a past president of the Boy Scouts of America's Heart of America Council and co-founder of the First Hand Foundation (now Cerner Charitable Foundation).
Illig earned a bachelor's degree in accounting and business administration from the University of Kansas. He is a Distinguished Eagle Scout Award and Boy Scouts' Distinguished Citizen Award recipient, and is a member of the Greater Kansas City Business Hall of Fame.