KANSAS CITY AREA December 2019 COMMENCEMENT
Saturday, December 14, 10 a.m.
Community of Christ Auditorium
1001 W. Walnut, Independence, MO 64050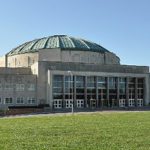 Doors open for graduates at 7:30 a.m. to register and prepare for the ceremony. Please arrive no later than 9 a.m.!
Doors open for family/friends/general public at 8:30 a.m.
There are no restrictions as to the number of guests graduates may invite. Please note that the ceremony usually lasts about two hours. All graduates are expected to stay for the entire ceremony.
View a map of the Independence, Mo., area.
Graduates, family and friends should review the May 2019 Commencement Handbook for a general schedule of events, information on the ceremony, caps and gowns, photographs, directions to the auditorium, live broadcast and other pertinent information. The Handbook will be updated during the Fall 2019 semester.

For family/friends of graduates who are unable to attend Commencement, the ceremony will be live streamed for free via the University's video portal.
The keynote speaker for the May 2019 commencement ceremony was Reggie Robinson, J.D., vice chancellor for public affairs at the University of Kansas.
View the news release announcing the Kansas City Area May 2019 graduates.
View the May 2019 Commencement program.
Watch the May 2019 Commencement live stream.
Read Robinson's keynote address.