Park University's Kansas City Area Commencement Set for May 7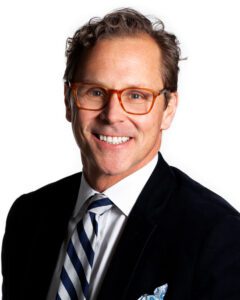 April 25, 2022 — Josh Rowland, Ph.D., J.D., chief executive officer and vice chairman of Lead Bank, will present the keynote address during Park University's Kansas City Area Commencement on Saturday, May 7. The ceremony will be held at the Community of Christ Auditorium in Independence, Mo., starting at 10 a.m.
The event will include 469 Park University students eligible to graduate and participate in the ceremony — 138 students are set to receive a master's degree and/or graduate certificate, and 331 students are scheduled to receive a bachelor's degree, associate degree and/or undergraduate certificate.
Rowland serves in multiple management roles for Lead Bank, a community-minded, independent commercial bank headquartered in Kansas City, Mo. Rowland is a member of the bank's executive and loan committees, and provides oversight of the bank's marketing and technology functions. He also serves as president and CEO of Lead Financial Group, the bank's holding company.
Prior to joining Lead Bank in 2008, Rowland practiced law as a commercial litigator, focusing on securities defense work at two American Lawyer 100 firms.
Rowland was named a Top 10 Most Innovative CEOs for 2018 by INV Fintech and the 2018 Community Banker of the Year for the Central Region by the Independent Community Bankers of America. He has been a featured speaker at national banking conferences, including Bank Innovation 2018, Lend Connect 2018 and FintechTalents 2020.
Rowland earned a doctorate degree in English literature from Yale University and a Bachelor of Arts degree from Stanford University in English language and literature. He also earned his Juris Doctor degree from Boston College Law School.
He currently serves on the boards of Metropolitan Organization to Counter Sexual Assault, where he is the immediate past chair, the Kansas City Art Institute and the Kansas City Symphony.