Park University Announces Top 10 Stories from 2018
Jan. 11, 2019 — It was another historic noteworthy year at Park University in 2018 as the University collected another national championship, saw record growth, local and international accomplishments and honors, and a number of firsts. Not to mention events throughout the year filled with speakers and performing artists from all around the globe.
Park University's Office of University Engagement compiled the biggest stories of the year and asked six select members of the University's staff to pick their top 10 moments from 2018. The voting was tight as just four of the 22 events/stories on the poll were named on all six ballots and two others appeared on five ballots. In fact, 16 of the 22 events/stories were named on at least one ballot.
Here are the top 10 Park University stories/events from 2018: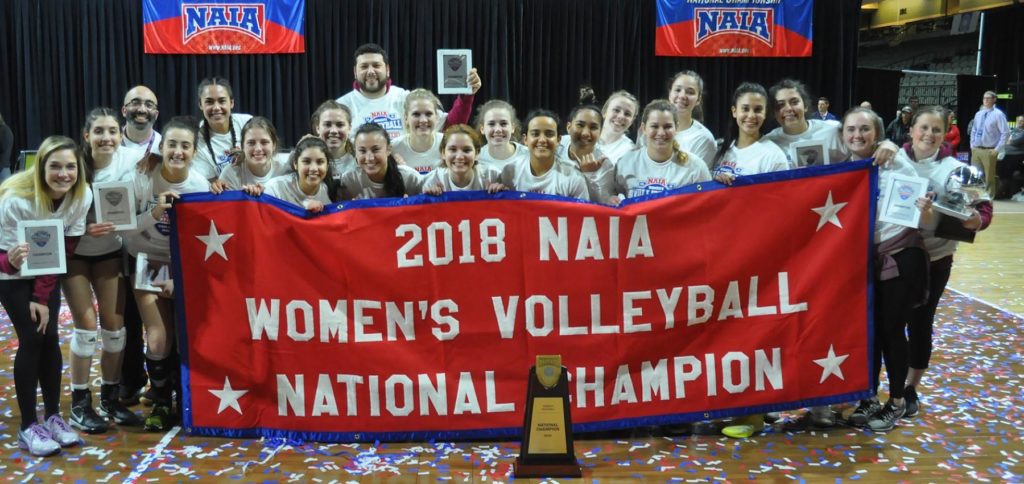 •  1 — Park University's women's volleyball team defeated American Midwest Conference rival Columbia (Mo.) College in a thrilling five-set match to win the NAIA Women's Volleyball National Championship in December.
         •  2 — Park University opened a new campus in Gilbert, Ariz., and began offering classes in October. The Gilbert Campus will be the first Park campus other than the flagship Parkville Campus to have intercollegiate athletics, starting in Fall 2019.
         •  3 — In June, the University announced that for the fifth consecutive academic term, Park's enrollment increased, and since the beginning of the 2017-18 academic year, Park's overall enrollment nationwide had grown 4.5 percent over the 2016-17 academic year.
         •  4 — Following a nationwide search, Michelle Myers, Ed.D., was appointed provost of Park University in October.
         •  5 — Park University announced in September that it received $1.8 million from three Kansas City area foundations for what will become the home of Park's School of Business, the Robert W. Plaster Free Enterprise Center.
         •  6 — The Kansas City Chiefs announced in April that the NFL club signed a partnership agreement with Park University that will made Park the Chiefs' first-ever official higher education partner.
         •  7 — Kay Barnes, senior director for university engagement, was named the 2018 Kansas Citian of the Year by the Greater Kansas City Chamber of Commerce on Nov. 20, fittingly, at the Kay Barnes Ballroom at the Kansas City Convention Center. The award honors individuals who have made outstanding contributions to the city.
         •  8 — Laurel Gagnon, 2017 graduate and a current graduate student in Park University's International Center for Music, placed fourth in the Singapore International Violin Competition.
         •  9 — In July, Park University announced that it would offer a varsity esports program starting in Spring 2019, becoming the first college/university in the Kansas City area to offer a varsity esports program.
         •  10 — Park University President Greg Gunderson, Ph.D., was elected to a special one-year appointment to serve on the Board of Directors of the Greater Kansas City Chamber of Commerce. Gunderson is the first Park president to serve on the GKCCC board.
Voting was completed by Greg Gunderson, Ph.D., president; Laurie Gunderson, Park University first lady; Erik Bergrud, associate vice president for university engagement; Brad Biles, director of communications and public relations; Bridget Locke, manager of strategic communications; and Steve Wilson, Gilbert Campus director of athletics.