The Crow's Nest — April 6, 2018


University launches "Ask Park" on Amazon Alexa
This past week, Park University celebrated the launch of "Ask Park," a new skill for Amazon Alexa, the personal voice assistant that enables users to voice-control products and services offered by a variety of brands. With the new Park University skill, Alexa users can ask a variety of questions about Park. And by linking a Park ID to the new Park University skill, students can access their course schedules and grades.
For more information about "Ask Park," visit park.edu/alexa/ or support.park.edu/. If you have any questions, contact the University's Help Desk at helpdesk@park.edu / (816) 584-6768 / (800) 927-3024. To provide feedback and ideas for new commands, e-mail alexa@park.edu.
University to host screening of "Big Sonia"
Sonia Warshawski is one of the last remaining Holocaust survivors living in the Kansas City area, and one of the only survivors who speaks publicly about her wartime experience. Sonia's enormous personality and fragile 4-foot-8-inch frame mask the horrors she endured. On Monday, April 9, Park University will host a program that will include a screening of Warshawski's story, "Big Sonia," a live music performance and a panel discussion starting at 6 p.m. in the Jenkin and Barbara David Theater inside Alumni Hall on the University's Parkville Campus. Admission to the event, a part of Park's 2017-18 Year of Diversity series of events, is free and open to the public. To ensure seating, registration is requested at park.edu/bigsonia.
The event will begin with a short performance by the Park University International Center for Music's Ben Sayevich, professor of music/violin, and his wife, Lolita Lisovskaya-Sayevich, director of collaborative piano. The film screening will begin at approximately 6:15 p.m. and will be followed by a panel discussion at approximately 7:45 p.m. Panelists will include: Rabbi Doug Alpert from Congregation Kol Ami in Kansas City, Mo.; Brian Cowley, Ph.D., Park University professor of psychology; and Jennifer Tavernaro, an educational adviser on the film. For more information about the event and the film, visit park.edu/news/big-sonia-screening/.
Women's volleyball alumna selected for Park Athletics Wall of Honor
Park University's Department of Athletics has announced the third member of the 2018 class for the Park Athletics Wall of Honor. Colleen (Mahoney) Scherman, '09, who was Park's first-ever NAIA All-American in women's volleyball will now be the first women's volleyball individual to be inducted into the Athletics Wall of Honor. Scherman was named a third team NAIA All-American in 2006 after leading the Pirates with 3.99 kills per set that season. Read more about Scherman and her accomplishments at parkathletics.com/article/2265.
Spark Tank application now open
Park University's Faculty Center for Innovation has announced that applications are open for the 2018-19 Spark Tank Innovation Grants. Teams of three (faculty/staff/student combinations) can compete for grant awards up to $5,000 to fund implementation of an innovative teaching or learning idea. Spark Tank is designed to support the University's goals of serving students with a high quality, learner-centered, innovative educational experience. If your application advances to the final round, your team will produce a pitch that will be voted on during the Fall Faculty Conference in August.
Interested in learning more about Spark Tank or brainstorming potential projects? Join the FCI team on Monday, April 9, from 2 to 3 p.m. (Central time) in the learning lab in Norrington Center on the Parkville Campus or via Zoom. Applications are due Monday, April 30. For more information and to apply, visit innovatepark.org/spark-tank or e-mail innovate@park.edu.
University mourns passing of honorary trustee Bob Corbett
Robert "Bob" Corbett, '38, an honorary trustee of Park University, passed away on March 31 at the age of 100. Corbett was a charter member of Park's Howard Bailey McAfee Heritage Society and served as Alumni Association president from 1952-53. Corbett was also named a Distinguished Alumnus Award winner in 1963, served as commencement speaker in 1986 and was a Founders Day honoree in 1998. He served as a member of Park's Board of Trustees for an entire decade and retired after a two-year term as chair in 1990. Bob was an honorary trustee and a member of the Park University Trustees Society at the time of his death.
Parkville Campus student will recognize his legacy. In 2010, Corbett was honored through the naming dedication of the Robert P. and Mary Alice Corbett Stairway, which connects students who live in the Copley Quad residence hall to the academic heart of the campus. A plaque honoring the Corbetts sits at the base of the stairs. Read more about Corbett via a message penned by Park University President Greg Gunderson, Ph.D., at park.edu/news/park-mourns-bob-corbett/.
PSGA hosting Earth Week 5K event
The Park Student Government Association is hosting its third annual 5K Run/Walk for Charity on Saturday, April 21, beginning at Copley Quad on the Parkville Campus at 10 a.m. The race will wind through the campus as well as the Parkville Commercial Underground. Entry fee for the event is a minimum of two nonperishable food items, with all donations going to Harvesters. Those that donate more than two items will earn additional tickets to be used toward a post-race raffle. To register or for more information, visit https://bit.ly/2G4cSix.
Faculty, staff, student news

Lacey Finley, Ph.D., visiting assistant professor of management, was honored by the National Business Education Association on March 28 in Baltimore with the Association for Research in Business Education's Doctoral Dissertation Award during the NBEA's annual convention. Completed in 2016 and reviewed in 2017, Finley's dissertation, "Undergraduate Business Students' Perceptions of Teaching Presence in Online Business Courses" will be published in a future edition of the Journal of Research in Business Education.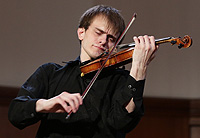 Igor Khukhua, a violinist and graduate student in the International Center for Music, won first place in the strings division of the Naftzger Young Artists Competition in Wichita, Kan., on March 26. Khukhua won a $2,000 prize for his efforts. It was the second year in a row that he won the strings division of the competition.
On March 23, members of Park University ROTC cadets traveled to White Sands Missile Range in New Mexico to participate in the 29th annual Bataan Memorial Death March, conducted in honor of the heroic service members who defended the Philippine Islands during World War II. The cadets met Bataan survivor Oscar Leonard and were among nearly 8,500 registered marchers. Park's contingent walked 26.2 miles with 35 pound rucks on their backs through sandy plains and mountainous areas in about nine hours. According to Wade Abel, director of military and veteran student services, each cadet left the demanding event with a great appreciation and respect for what the Bataan Death March represents, and the many more miles, under much harsher conditions, that those in the March in 1942 had to endure.
Alla Adams, Ph.D., visiting assistant professor of healthcare administration, Harold Griffin, Ph.D., director of the Master of Healthcare Administration program and associate professor of healthcare administration, and James Vanderleeuw, associate dean of the Hauptmann School of Public Administration, co-presented a poster at the Small Cities Connect Conference and Expo on March 28 in Kansas City, Mo. The poster, "How City Websites are Used," provided insight into the types of information being communicated, to whom the information is being communicated and the extent to which city websites are used in a strategic manner to facilitate long-term city goals.
Roberta Park, coordinator of academic advising in the College of Liberal Arts and Sciences, presented a discussion on "Talking Tolkien" in Kansas City, Mo., on March 25. Park, the president of the (J.R.R.) Tolkien Society of Kansas City, spoke about the author's experiences in World War I and how they informed his greatest literary masterpieces.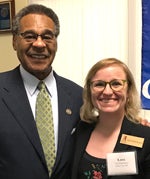 Lora Zaidarhzauva, associate director of international recruitment, represented Park University and Study Missouri at the NAFSA: Association of International Educators Advocacy Day, March 19-20, in Washington, D.C. The event allowed participants to maintain advocacy relationships with members of Congress and to make the case for a more welcoming and globally engaged U.S. She is shown with Missouri Congressman Emanuel Cleaver II.
Park In The News
A story about the restoration efforts of Banneker School in Parkville, Mo., a one-room structure that has connections to Park University since it was built in 1885, was featured on WDAF-TV in Kansas City on March 15.
Patty Ryberg, Ph.D., assistant professor of biology, provided comments for a story that appeared on the National Geographic website on March 16 related to five new fossil forests being found in Antarctica. Ryberg was a part of a recent research trip to Antarctica over the winter break.
Janis Murray, '80, was featured in a story that appeared on the Fansided website on March 28 as she became the first woman ever to run the play-by-play camera for the NCAA men's basketball Final Four.
Two development projects in the Kansas City area that involved Park University were awarded Capstone Awards by the Kansas City Business Journal. Commerce Tower, home of Park University's Downtown Kansas City, Mo., Campus, won its award in the mixed use category, while the Lenexa (Kan.) Civic Campus, home to Park's Lenexa Campus, won its award in the community impact category.
Amy Wolf, Ph.D., associate professor of education, was interviewed by KCTV in Kansas City for stories that aired on April 2 related to active shooter response training for child care centers/providers.
Patrick Moon, former U.S. ambassador/chief of mission to Bosnia and Herzegovina, who spoke at Park University on April 4 related to NATO-Russia relations and its impact on the U.S., was interviewed for stories that aired on KMBZ-FM in Kansas City on April 3.
More Park University degree programs have been ranked by various websites:
The University was ranked No. 12 on OnlineU.org's "2018 Most Affordable Online Colleges for Public Administration Degrees" list.
The University was ranked No. 12 on BestValueSchools.org's "Schools Offering the Best Online Teaching Degrees of 2018" list.
The University was ranked No. 24 on OnlineU.org's "2018 Most Affordable Online Colleges for Communications Master's Degrees" list.
Upcoming Events
(All events are Central time)
Through April 26 — New Works Faculty Art Exhibit, Campanella Gallery
April 7 — Park University International Center for Music Concert: Cellist Daniel Veis and Pianist Helena Veisova, 7:30 p.m., Graham Tyler Memorial Chapel
April 8 — Parkville Symphonic Band Concert, 3 p.m., Graham Tyler Memorial Chapel
April 9 — "Big Sonia" Movie Screening and Panel Discussion, 6 p.m., David Theater (Alumni Hall)
April 15 — Park University International Center for Music Concert: Violinist David Radzynski and Pianist Lolita Lisovskaya-Sayevich, 4 p.m., 1900 Building, Mission Woods, Kan.
April 18 — Dr. Doris Howell Leadership Awards, 6 p.m., Park Place Banquet and Event Space, Parkville, Mo.
April 21 — Grand Forks (N.D.) Air Force Base Campus Commencement, 3 p.m., Grand Forks Central High School
April 23-24 — Student Research and Creative Arts Symposium, Parkville Campus
April 25 — Honors Convocation, 7 p.m., Graham Tyler Memorial Chapel
April 27 — Moody Air Force Base (Ga.) Campus Commencement, 3 p.m., Hoffman Auditorium, Moody AFB
April 27 — Park University International Center for Music Concert: ICM Orchestra and Kansas City Chamber Orchestra, 8 p.m., Kauffman Center for Performing Arts, Kansas City, Mo.
May 1-31 — Fine Arts Seniors Thesis Exhibit, Campanella Gallery
May 1 — Park University International Center for Music Concert: Pianist Behzod Abduraimov and Cellist Truls Mork, 7:30 p.m., 1900 Building, Mission Woods, Kan.
May 2 — Fort Irwin (Calif.) Campus Commencement, 5 p.m., Sandy Basin Community Center
May 10 — Tinker Air Force Base (Okla.) Campus Commencement, 4:30 p.m., Tinker Club Ballroom
May 11 — Beaufort (S.C.) Marine Corps Air Station Campus Commencement, 2 p.m., Marine Corps Recruiting Depot Parris Island Theater
May 11 — International Student Sash Ceremony, 5 p.m., Graham Tyler Memorial Chapel
May 12 — Kansas City Area May Commencement, 10 a.m., Community of Christ Auditorium, Independence, Mo.
May 13 — Spring Semester / Spring II Terms Ends
May 14 — Maymester Begins
May 15 — Mountain Home (Idaho) Air Force Base Campus Commencement, Noon, Gunfighter Theater
May 17-18 — Board of Trustees Meeting
May 17 — Hanscom Air Force Base (Mass.) Campus Commencement, 1:30 p.m., Minuteman Commons
May 18 — Naval Support Activity Mid-South Millington (Tenn.) Campus Commencement, 1 p.m., Pat Thompson Recreation Center
May 18 — Malmstrom Air Force Base (Mont.) Campus Commencement, 2 p.m., Heritage Hall at Great Falls College – Montana State University
May 18 — Little Rock (Ark.) Air Force Base Campus Commencement, 6:30 p.m., Jacksonville (Ark.) Community Center
May 19 — Luke Air Force Base (Ariz.) Campus Commencement, 11 a.m., Club 56
May 21 — Whiteman Air Force Base (Mo.) Campus Commencement, 6 p.m., Mission's End
May 25 — Austin (Texas) Campus Commencement, 7 p.m., Great Hills Baptist Church
May 27 — Maymester Ends
May 28 — Memorial Day Holiday (All University offices closed nationwide)
May 31 — Cherry Point (S.C.) Marine Corps Air Station Campus Commencement, 9 a.m., Two Rivers Theater and Event Center
May 31 — Barstow (Calif.) Community College Campus / Victor Valley College (Calif.) Campus Commencement, 5 p.m., Barstow Community College Performing Arts Center
Note: To view a comprehensive schedule for all events, including athletics and student life, visit www.park.edu/calendars/park-events-calendar.html.