The Crow's Nest — July 6, 2023
Parkville Campus Student-Athletes Earn National Honors
Four Park University Parkville (Mo.) Campus student-athletes were named to the 2022-23 College Sports Communicators Academic All-America At-Large teams on June 20. The At-Large selections include student-athletes across all winter/spring sports. Heading the list was men's volleyball player Daniel Isernhagen (right), who was named to the NAIA men's first team. Teammates Mateus Carvalho and Gabriel Soares earned second team honors, while women's golfer Laetitia Solombrino was selected to the NAIA women's second team. Read more at parkathletics.com.
Park-Gilbert Softball Coaches Win National Award
Park University Gilbert (Ariz.) Campus softball head coach Brandon Telesco and assistant coach Marisa Stankiewicz were named the 2023 ATEC/National Fastpitch Coaches Association NAIA National Coaching Staff of the Year on June 12. Telesco and Stankiewicz guided the Buccaneers to a 36-14 overall record and 22-6 record in the California Pacific Conference this past year. Park-Gilbert's 36 victories in 2023 surpassed the 34 combined wins over the first three years of the program. Telesco, in his first season with the Buccaneers, was named the Cal Pac Coach of the Year in May. Telesco and Stankiewicz will be honored during the NFCA Convention in December.
Student Art Exhibit in Campanella Gallery Through July 28
A student art exhibit, Paint!, is currently on display in Park University's Campanella Gallery (located within Norrington Center on the flagship Parkville (Mo.) Campus), through Friday, July 28. Students exhibiting are: Antoinette Alarcon, senior psychology major; Sara Cornelius, '23 (graphic design); Paul Madsen, senior interdisciplinary studies major; Savannah Orlich, graduate student seeking Master of Education degree; and Neyamia Powell, senior interdisciplinary studies major.
Paint! is an exhibit of paintings created by student artists in the Painting I (AR 280) and Painting II (AR 380) courses during the Spring 2023 semester. Various styles, techniques and media are demonstrated in these expressive works. Pop art, impressionism, expressionism, abstraction and digital painting are represented in colorful, unique compositions. Norrington Center's summer hours are: Monday through Thursday, 8 a.m. to 8 p.m., and Friday, 8 a.m. to 4:30 p.m. The building is closed on Saturday and Sunday.
Park University 2023 Golf Scramble Set for Oct. 16
The 2023 Park University Golf Scramble, a four-person tournament that benefits the University's Parkville (Mo.) Campus athletics programs, is scheduled for Monday, Oct. 16, at The National Golf Club of Kansas City. Golfers get on the course with a shotgun start at 10 a.m., with registration beginning at 8:30 a.m.
Registration fees are $250 per golfer or $1,000 per four-person team, and a variety of sponsorship packages are available, ranging in price from $1,500 to $5,000. Entries include 18 holes of golf with a cart, box lunch on the course, driving range access prior to the event, on-course games and contests, refreshments and flight prizes. To register for the tournament or for more information, visit park.edu/golf. For questions about the tournament or sponsorship levels, contact Nathan Marticke, chief advancement officer, at nathan.marticke@park.edu or (816) 584-6844.
Faculty, Staff, Student News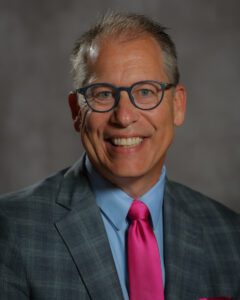 Erik Bergrud, chief strategic communications officer, who serves as the Kansas City Comets (Major Indoor Soccer League) color analyst for the team's broadcasts, his play-by-play partner, WDAF-TV anchor/reporter Nick Vasos and the rest of the production crew were selected as the MASL's Best Broadcast Production (English) for the 2022-23 season. The announcement was made during the MASL summer meeting in Milwaukee, Wis., in early June. The Comets home games air in Kansas City on KMCI-TV (38 The Spot) and stream via Twitch. This past season, Bergrud and Vasos also announced two MASL Games of the Week on SiriusXM FC.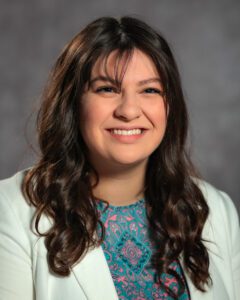 Camille Abdel-Jawad, instruction and outreach librarian, and assistant professor of library instruction and outreach, authored "HOAX: How Perceived Authority of Information Sources Affects Students' Likeliness to Disseminate Misinformation" for the Journal of New Librarianship published in June. The findings from the study indicate that students rely on traditional forms of authority (such as doctors and police officers), but also indicate a relationship between the emotional tone of information sources and certain aspects of students' evaluations of source authority, such as being "verified" on traditional social media platforms.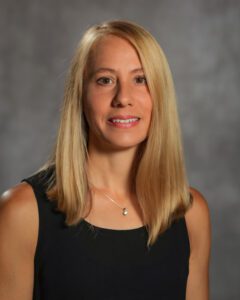 Clarine Jacobs, Ph.D., assistant professor of management/human resources, authored an article on "Leadership-Followership Relationship through the Pandemic for our First Lines of Defense: Healthcare Workers and Military Personnel," published on June 15 in the International Journal of Nursing and Health Care Research. The article reviews the timeline of the COVID-19 pandemic, the vaccine mandate, the effects on the first lines of defense and the toxic triangle that created an onset of confusion, controversy and fear throughout the country.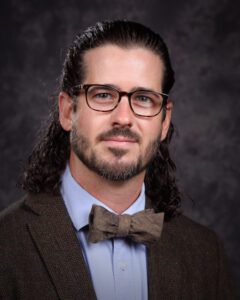 Joshua Mugg, Ph.D., assistant professor of philosophy, participated in the SET Foundations (Building Foundations in Science-Engaged Theology: Insights from Philosophy of Science) Summer Session 2023 in La Jolla, Calif., June 10-16. The seminar provided an in-depth look at how natural kinds, laws and regularities are understood across a range of scientific disciplines, including human and social sciences. Mugg provided insights on treating belief, faith and trust as natural kinds within the domain of cognitive science in order to better apply them within theological contexts.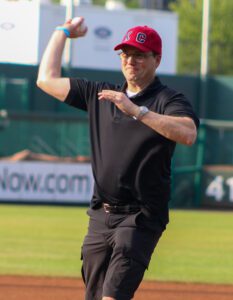 Park University President Shane Smeed tossed the ceremonial first pitch at the Kansas City Monarchs game on June 23.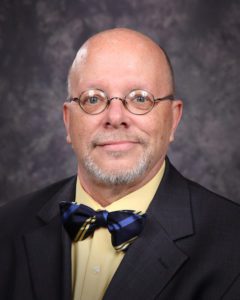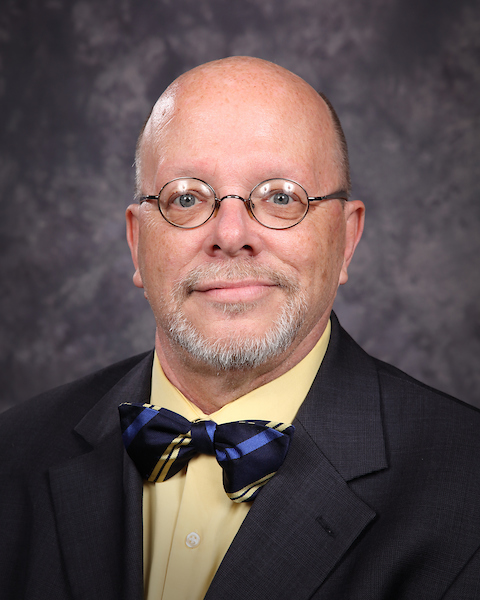 Tim Westcott, Ph.D., associate professor of history, director of the George S. Robb Centre for the Study of the Great War and associate university archivist, presented a talk on the Valor Medals Review Project to the Lenexa (Kan.) Historical Society at Park University's Lenexa Campus on June 26.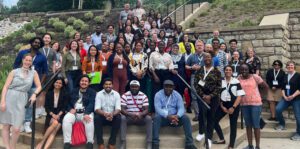 Park University's flagship Parkville (Mo.) Campus hosted the Midwest Retreat for Diversity in Chemistry, June 23-25. The event, which included 70 participants from across the Midwest, focused on providing information, skills and networking opportunities for emerging scientists who historically have been underrepresented within the field of chemistry. Agah Azin, Ph.D., assistant professor of chemistry, Greg Claycomb, Ph.D., professor of chemistry, and Donna Jean, Ph.D., associate professor of chemistry, served as presenters.
Park in the News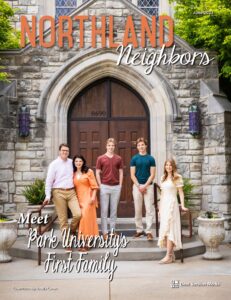 Park University President Shane Smeed and his family were featured as the cover story for the June edition of the Kansas City area Northland Neighbors magazine.
Cynthia Levin, '77, who announced her retirement last month effective June 2024 from the Unicorn Theatre in Kansas City, Mo., was an interview guest on KCUR-FM's "Up To Date" on June 2. Levin, who has been with the Unicorn Theatre since 1979 and current serves as its producing artistic director, was the keynote speaker and received an honorary doctorate degree during Park University's commencement ceremony in May 2002.
Kathy Tran, a senior criminal justice administration major, was interviewed for a story that aired on KSHB-TV in Kansas City on June 6 related to the Kansas City, Mo., Police Department's summer internship program.
Matt Harris, Ph.D., assistant professor of political science, provided comments for a story that was posted on Roll Call, a source for news on Capitol Hill in Washington, D.C., on June 14, related to special elections in Rhode Island and Utah drawing large numbers of candidates.
Evan LaMunyon, a recent graduate of Montezuma-Cortez High School in Colorado who signed a letter-of-intent to play baseball for Park University's flagship Parkville (Mo.) Campus, was featured in a story that appeared in The Journal, a newspaper in Cortez, on June 15, related to his summer team.
Erik Bergrud, chief strategic communications officer, and his spouse, Kimberlee Ried, MACL '16, are serving as co-chairs of the National World War I Museum and Memorial's Night at the Tower event on Sept. 30. They appeared in a photograph in the June 24 edition of The Independent, Kansas City's journal of society.
Phillip Hayes, '13, who was appointed as the head coach for the varsity boys soccer and girls soccer teams at Milan (Mich.) High School in December 2022, was recently selected as the Monroe County (Mich.) Region Girls Soccer Coach of the Year by The Monroe News sports staff. Hayes was featured in a Monroe News story on June 30.
Upcoming Events
(All events are Central time and on the flagship Parkville [Mo.] Campus unless noted)
          •  Through July 28 — Student Art Exhibit: "Paint!" Campanella Gallery (Norrington Center)
          •  July 13 — Blood Drive, 9 a.m.-1 p.m., Breckon Sports Center (East Dome)
          •  July 30 — Summer Session / Summer II / Julymester Classes End
          •  August 3 — Barstow (Calif.) Community College Campus / Victor Valley College (Calif.) Campus Commencement, 7:30 p.m., BCC Performing Arts Center
          •  August 4 — Austin (Texas) Campus Commencement, 7 p.m., Austin Stone Community Church Northwest Campus
          •  August 8-9 — Fall Faculty Conference, Parkville Campus
          •  August 14 — Fall Semester / Fall I Term Begins
          •  August 18 — Opening Convocation, Noon, Graham Tyler Memorial Chapel and Virtual
          •  August 18 — Opening Convocation Lunch / Student Activities Fair, 1-3 p.m., University Front Lawn
To view a comprehensive schedule for all events, including athletics and student life, visit park.edu/calendars/park-events-calendar.