CURRENT PROJECTS
In 2020, the Center for Global Peace Journalism will continue to publish a semi-annual magazine, "The Peace Journalist."  Peace journalism projects are being planned in Northern Ireland, Ukraine and Luxembourg, among other places.
In 2019, the Center's director made two visits to Northern Ireland  to teach peace journalism on a State Dept. grant. The director was also invited to present at the World Forum for Democracy  in Strasbourg, France. In 2018, director Steven Youngblood was named a U.S. Senior Subject Specialist for Peace Journalism by the U.S. State Department. In this role, was engaged in a number of PJ projects in Ethiopia from January to May, 2018.
For more details, see the Projects page of this site.
THE PEACE JOURNALIST MAGAZINE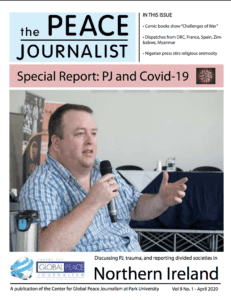 The April 2020 includes special coverage of what reporters covering Covid-19 can learn from peace journalism, as well as coverage of a peace journalism project in Northern Ireland.
PEACE JOURNALISM
What is Peace Journalism?
Peace Journalism is when editors and reporters make choices that improve the prospects for peace. These choices, including how to frame stories and carefully choosing which words are used, create an atmosphere conducive to peace and supportive of peace initiatives and peacemakers, without compromising the basic principles of good journalism. (Adapted from Lynch/McGoldrick, Peace Journalism). Peace Journalism gives peacemakers a voice while making peace initiatives and non-violent solutions more visible and viable.
To learn more about the basics of PJ, including some key principles and how PJ can be used in daily reporting, you can download our 2-page brochure, "Peace Journalism: An Introduction."
About the Center for Global Peace Journalism
The Center for Global Peace Journalism at Park University promotes the concepts of peace and peace journalism. More
RESOURCES
The Center offers a series of resources about peace journalism, including:
Textbook-Peace Journalism Principles and Practices
Case studies
Reports
Websites
Handbooks
Issues
War Coverage
Video and Audio
Social Media