CURRENT PROJECTS
In 2022, the Center for Global Peace Journalism is celebrating its 10th birthday with an anniversary symposium featuring PJ experts from eight countries around the world. The center is continuing its work with journalists in Kosovo, India, and Pakistan, and is holding a seminar for journalists from Africa's Sahel region. The center is working with the War Stories Peace Stories initiative to disseminate information and plan future events.
In 2021, the Center for Global Peace Journalism hosted Zoom meetings for journalists in Yemen, as well as joint seminars featuring participants from both India and Pakistan. Projects included Zoom seminars with young journalists in Turkey and Africa's Sahel region. The center also published the 20th edition of The Peace Journalist magazine.
For more details, see the Projects page of this site.
THE PEACE JOURNALIST MAGAZINE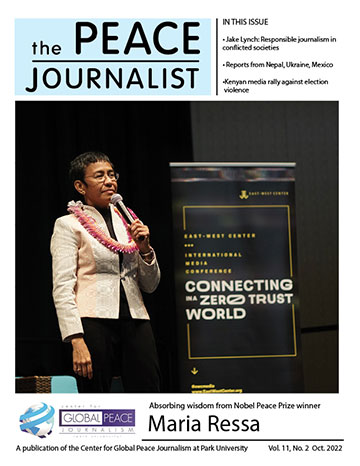 The October 2022 edition features a special report on a project that brings together Pakistani and Indian journalists, as well as dispatches from Ukraine, Cameroon, and Italy.
What is Peace Journalism?
Peace Journalism is when editors and reporters make choices that improve the prospects for peace. These choices, including how to frame stories and carefully choosing which words are used, create an atmosphere conducive to peace and supportive of peace initiatives and peacemakers, without compromising the basic principles of good journalism. (Adapted from Lynch/McGoldrick, Peace Journalism). Peace Journalism gives peacemakers a voice while making peace initiatives and non-violent solutions more visible and viable.
To learn more about the basics of PJ, including some key principles and how PJ can be used in daily reporting, you can download our 2-page brochure, "Peace Journalism: An Introduction."
About the Center for Global Peace Journalism
The Center for Global Peace Journalism at Park University promotes the concepts of peace and peace journalism. More
RESOURCES
The Center offers a series of resources about peace journalism, including:
Textbook-Peace Journalism Principles and Practices
Case studies
Reports
Websites
Handbooks
Issues
War Coverage
Video and Audio
Social Media