Park University Announces Top 10 Events, Stories from 2022
January 20, 2023 — Park University celebrated another historic and noteworthy year in 2022 as the University and its students, employees and alumni garnered national media attention, and earned international, national and local honors.
Park's Office of Strategic Communications compiled the University's biggest events and stories of the year, and asked five members of the University's staff to pick their top 10 moments from 2022. The voting was tight as only three of the 44 events/stories on the poll were named on all five ballots and three others appeared on four ballots. In fact, 20 of the 44 events/stories were named on at least one ballot.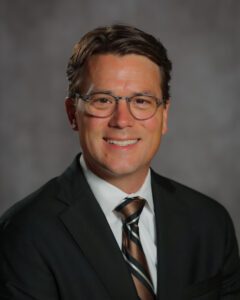 Here are the top 10 Park University stories/events from 2022:
          1. — Park University's Board of Trustees appointed Shane Smeed as the school's 18th president, effective January 1.
     park.edu/news/smeed-appointed-president
          2. — A documentary exploring the work of the Valor Medals Review Project by Park University's George S. Robb Centre for the Study of the Great War debuted on March 24 at the National World

War I Museum and Memorial in Kansas City, Mo. The film, "More Than a Medal," interweaves the efforts of researchers working against time, untold heroic stories of courage on the battlefields of France, on the seas and in the air, and the experience of modern-day descendants as they maintain cautious hope of recognition.
     park.edu/news/more-than-a-medal-documentary
          3. — The Missouri Department of Higher Education and Workforce Development awarded Park University a $999,508 Private MoExcels grant via the American Rescue Plan Act. The grant will fund a project titled "Boosting State Economic Recovery through Adult Learner Pathways to Careers in Health Care." The funds will allow the University to scale up its new certified medical assistant program that was recently launched in partnership with North Kansas City (Mo.) Hospital, as well as to support research and development of additional health care pathway programs, outreach and recruitment efforts, student support services, professional and curriculum development, and facilities and equipment.
     park.edu/news/crows-nest-january-4-2023
          4. — Park University International Center for Music graduate student Ilya Shmukler, who was one of 30 competitors participating in the 16th Van Cliburn International Piano Competition in Fort Worth, Texas, advanced to the finals (6 competitors) of the prestigious event, held June 2-18. Considered one of the renowned international music contests, the event included the world's top 18- to 30-year-old pianists. While Shmukler was not named as a medalist (top three), he won a cash prize of $10,000 as a finalist and he was selected as the winner of the "Best Performance of a Mozart Concerto," earning an additional $5,000 prize.
     park.edu/news/crows-nest-july-5-2022
          5. — Park University's Gilbert (Ariz.) Campus held its inaugural commencement ceremony for graduates on April 30 at Paloma Community Church in Mesa, Ariz. About 70 students participated in the ceremony, and Brigette Peterson, mayor of the Town of Gilbert, provided the keynote address.
     park.edu/news/gilbert-commencement-2022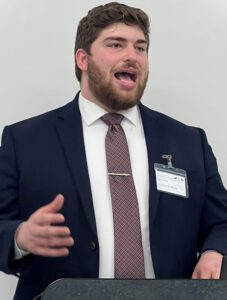 6. — Adam Wilkins, sophomore nursing major, won the college junior division of the International Public Debate Association at the Gorlok Gala event in Webster Groves, Mo., in January. According to Lora Cohn, associate professor of communications, Wilkins is the first Park University debater this century to take first place in a tournament.
          7. — David Radzynski, who earned a Graduate Certificate in Music Performance (violin) in 2014 from Park University's International Center for Music, was appointed concertmaster of the Cleveland Orchestra.
     broadwayworld.com/cleveland/article/The-Cleveland-Orchestra-Appoints-David-Radzynski-as-Concertmaster-20220528
          8. — Park University's Valor Medals Review Project, being conducted by the George S. Robb Centre for the Study of the Great War, was featured as the cover story in the Des Moines (Iowa) Register on April 3. The cover story focused on one of the servicemen the Robb Centre is researching, U.S. Army 2nd Lt. Rufus Jackson, as well as Josh Weston, Robb Centre senior military analyst and senior European history major (now associate director of military research) who is an Iowa native. In addition, a second page column provided an overview of the VMR and where readers could learn more. The newspaper also published a photo gallery related to the Robb Centre and VMR.
      desmoinesregister.com/in-depth/news/local/columnists/courtney-crowder/2022/04/03/valor-medal-of-honor-review-world-war-i-soldiers-black-iowa-veteran/8459308002
     desmoinesregister.com/picture-gallery/news/2022/04/03/wwi-valor-medal-honor-review-project-george-s-robb-centre/7154409001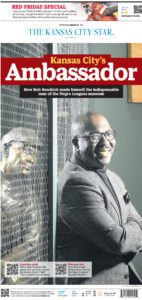 9. — Bob Kendrick, '85, was featured in The Kansas City Star on Jan. 12 with a full front page photo and accompanying four-page-long story which calls him "Kansas City's Ambassador." Kendrick is the president of the Negro Leagues Baseball Museum.
     kansascity.com/sports/spt-columns-blogs/vahe-gregorian/article256623706.html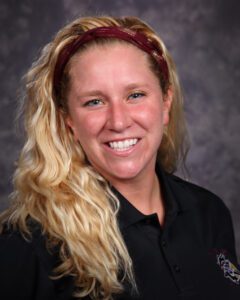 10. — In September, Janie Kluempers, assistant athletic trainer for Park University's flagship Parkville (Mo.) Campus, was appointed as the assistant athletic trainer for the USA Women's Eagles Rugby team which will play in the month-long Rugby World Cup in New Zealand beginning in early October. Kluempers was featured in a Heart of America Athletic Conference interview segment on Sept. 30.
     youtube.com/watch?v=alzfxWijNck
Voting was completed by Erik Bergrud, chief strategic communications officer; Brad Biles, director of communications and public relations; Nathan Marticke, chief advancement officer; Michelle Myers, Ed.D., provost; and Kena Wolf, chief enrollment management officer.