The Crow's Nest — July 31, 2019

Missouri Governor Visits Parkville Campus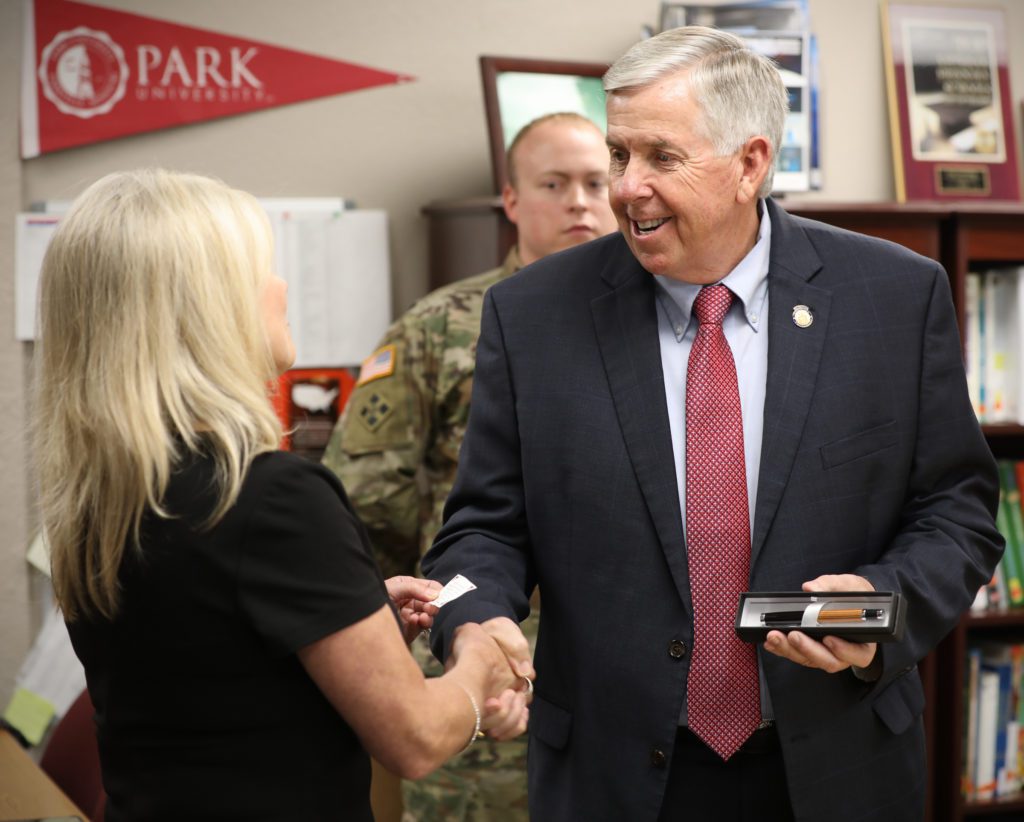 On July 25, Missouri Gov. Mike Parson and his wife, Teresa, visited Park University's Parkville Campus to hear presentations about the University's history and work-study model, how the University is using technology such as Amazon Alexa to serve its students worldwide, Park's commitment to the military, including its Military Credit Fast App and Valor Medals Review of minority veterans who served in World War I, and the University's workforce development initiatives to help Missouri employers. Following the presentations, Parson toured the Park Global Warrior Center and participated in an "Alexa, ask Park…" demonstration. At the conclusion of the event, Parson exchanged challenge coins with Park University Chief of Staff Laure Christensen. In addition, Christensen presented Parson with a handcrafted pen made by Park President Greg Gunderson, Ph.D. (adjacent photo). Gunderson was unable to attend the event due to his commitment to attend the University's Hill Air Force Base (Utah) commencement ceremony.
Board of Trustees Elects Prenger as Chair; Adds Three New Members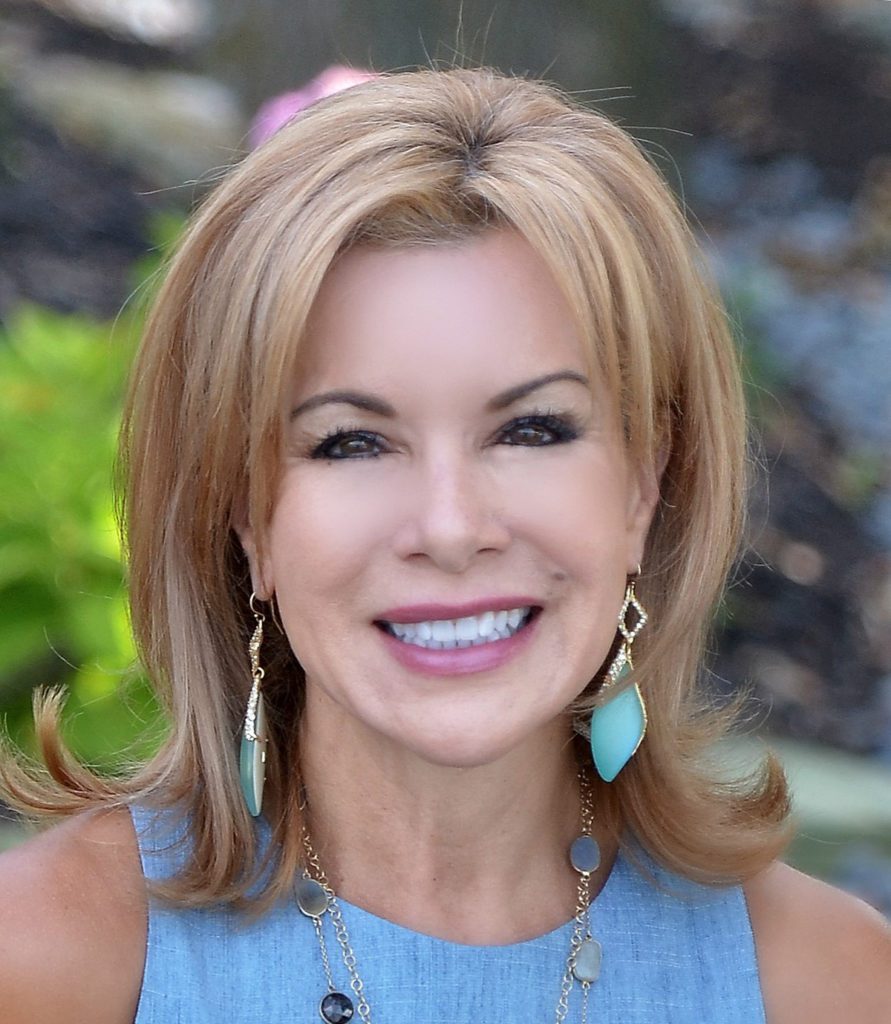 The governing body of Park University — its Board of Trustees — has elected Jeanette Prenger to serve as its chair for the 2019-20 year. Prenger, a 2009 Park graduate, is the president and chief executive officer of ECCO Select, a technology and human enterprise consulting firm in Kansas City, Mo. The Board of Trustees also elected the following board officers:
          •  Vice Chair: Jackie Snyder, Ed.D., Parkville, Mo.; chancellor emeritus, Metropolitan Community College, Kansas City, Mo.
          •  Secretary: Troy Teague, Kansas City, Mo.; recruiting director, Cerner Corp, Kansas City, Mo.
          •  Treasurer: Lynn Craghead, Kansas City, Mo.; senior vice president, U.S. Bank, Kansas City, Mo.
In addition, the Board of Trustees elected three individuals — Mitzi Cardenas, Mara Cohara and Sarah Moe Meyers — to serve a three-year term on the board, effective July 1. Read more about the new board members at park.edu/news/new-bot-members-2019.
Park University Assisting Active Duty Service Members Affected by Changes to Tuition Assistance Qualifications
Park University, which has supported U.S. military service members since 1918 when it accepted students who were inducted into the War Department's Student Army Training Corps, is stepping in to assist active duty U.S. service members who may be impacted by restrictions on federal tuition assistance. Park University understands the challenges these students face and has offered its support by announcing that it will waive the tuition of one class (up to three credit hours) for any active duty service member, guard or reservist who is enrolled with the University for its Fall semester or Fall I term, which begins on Monday, Aug. 19, after tuition assistance, G.I. Bill benefits and federal student aid benefits have been exhausted. For new military students, the University also waives the admission fee for all members of the military.
Active duty service members can take advantage of this offer by enrolling online at military.park.edu or by calling the University's Office of Admissions at (888) 319-9522. Questions about the offer should be referred to Sarah Weygand, director of military and veteran student services, at sweygand@park.edu or the Park Global Warrior Center at warriorcenter@park.edu. Read more at park.edu/news/military-assistance.
Park Campuses Hold Commencement Ceremonies
Park University campuses across the country are holding commencement ceremonies for 2019 graduates. As these ceremonies continue through the year, we'll include the link to the news releases announcing the list of graduates at each campus.
          •  El Paso (Texas) Campus / Fort Bliss (Texas) Campus
          •  Hill Air Force Base (Utah) Campus
          •  Holloman Air Force Base (N.M.) Campus
          •  Laughlin Air Force Base (Texas) Campus
Residence Life, Library Services, Network Academic Success Directors Appointed
Park University has appointed Isaac Barber (left) as director of residence life, Brent Short (right) as director of library services and Dana Frasca (below) as director of network academic success. Barber began his duties at Park on June 24, Short started on July 1 and Frasca started on July 22. As director of residence life, Barber manages Park's residential buildings on the Parkville Campus while ensuring that the residential experience for students aligns with the vision and mission of the University. In addition, he will develop and administer high-impact programs and services for residential students. In Short's role as director of library services, he is responsible for the development and management of the University's McAfee Memorial Library and Learning Commons, housed in Norrington Center. He is also responsible for defining the strategic direction of library services, including electronic and print resources, and the University's Frances Fishburn Archives and Special Collections. As senior director of network academic success, Frasca will oversee and coordinate services, processes and initiatives that promote and support the academic success of the University's students at all of its 42 campuses across the country and online worldwide. Services include tutoring, disability services, mentoring, testing services and other resources that foster academic achievement and contribute to Park's goal of serving and retaining its students. Read more about Barber and Short at park.edu/news/barber-and-short; Frasca at park.edu/news/frasca-appointed-to-senior-director-role.
Golf Scramble Set for Oct. 14 to Benefit Pirates' Athletic Programs
The 2019 Park University Golf Scramble, a four-person tournament that benefits the University's Parkville Campus athletic programs, is scheduled for Monday, Oct. 14, at The National Golf Club of Kansas City. Golfers get on the course with a shotgun start at 10 a.m., with registration beginning at 8:30 a.m. An awards program will be held immediately follow the completion of the tournament at approximately 3:30 p.m. Tournament sponsorship fees are $225 per golfer or $900 per four-person team, and includes 18 holes of golf with a cart, box lunch on the course, driving range access prior to the event, on-course games and contests, and refreshments. In addition, a variety of sponsorship packages are available, ranging in price from $1,400 to $5,000. For more information, visit park.edu/news/golf-scramble-2019 or register at park.edu/golf. For questions about the tournament or sponsorship levels, contact Nathan Marticke, associate vice president of advancement, at nathan.marticke@park.edu or (816) 584-6200.
"Park Stories" Initiative Showcases Park Family
The heart and soul of Park University lies within the spirit of the people who represent the institution in the classroom and community. The Office of University Engagement's new "Park Stories" initiative showcases fun and inspiring features highlighting Park University students, faculty, staff and alumni. These stories will be shared periodically in The Crow's Nest. This edition's installment highlights Darrell Julu, a junior social work major who spent 17 years of active duty service with the U.S. Marine Corps and U.S. Army. Read about Julu at advancing.park.edu/the-softer-gentler-side-of-sgt-julu.
Campanella Gallery to Feature Exhibit by Mixed Media Artist Laurel DeFreece
The opening art exhibit in the Park University 2019-20 Campanella Gallery exhibition season will feature mixed media works inspired by nature and the prairie by Kansas City region artist Laurel DeFreece. The exhibit, "Natural Elements," will be on display beginning Monday, Aug. 5, through Friday, Sept. 27. A reception for the artist will be held on Friday, Aug. 23, from 2:30 to 4:30 p.m. in the Gallery. Admission to the Campanella Gallery, located within Norrington Center on the University's Parkville Campus, is free. DeFreece said that her exhibit new works represents a bold new direction. "Native grasses, sticks and other found elements have inspired me for years. Utilizing these materials, I have made natural paper for prints, collages, sculptures and encaustics made with natural bee's wax. The exhibition as a whole explores my fascination with the prairie biome that surrounds my rural home." Read more at park.edu/news/defreece-exhibit.
Faculty, Staff, Student News
A picture book manuscript by Virginia Brackett, Ph.D., professor emerita of English, was named a finalist in the William Penn Foundation's Early Childhood Book Challenge. The manuscript, Let's Find Colors, was one of 10 from more than 500 manuscripts in the competition to be selected to the competition's shortlist as a promising manuscript that models different methods to encourage children and their caregivers to read together. Brackett was paired with an illustrator to produce illustrations reflective of the book's content.
Ashley Jones, esports head coach, was elected to the board of directors and chair-elect for the National Association of Collegiate Esports during the NACE National Convention in Harrisburg, Pa., in July. During the convention, Jones was also a panelist on "Coaching in Esports," which discussed the day-to-day activities, responsibilities and overall structure of the position and how it can work within various institutions.
Tyler Price, assistant director of athletics for media relations and marketing, was elected to a two-year term to serve on the NAIA Sports Information Directors of America executive board during the organization's national convention in Orlando, Fla., in July.
Steve Youngblood, associate professor of communication arts and director of the Center for Global Peace Journalism, facilitated an International Relations Council community conversation on "Media and Horrifying Images: Necessary Evil or Unnecessarily Sensational?" on July 25 in North Kansas City, Mo.
Park in the News
Matt Harris, Ph.D., assistant professor of political science, was interviewed for a story that aired on KSHB-TV in Kansas City on July 8 related to the announcement that former Kansas Secretary of State Kris Kobach would run for U.S. Senate.
A guest commentary authored by Steve Youngblood, associate professor of communication arts and director of the Center for Global Peace Journalism, responding to the use of photos in telling the stories of migrants and refugees, appeared on The Kansas City Star website on July 12.
Bob Kendrick, '85, was the focus of a commentary piece that appeared in The Kansas City Star on July 13. Kendrick, a 2013 recipient of Park University's Distinguished Alumni Award, is the president of the Negro Leagues Baseball Museum.
Park University was featured in EdScoop on July 17 with a story about the University's use of Amazon Alexa and how it has boosted student engagement and productivity. James Nelson, associate vice president for information technology services, provided comments for the article.
Mary Billingsley-Jones, '02, was featured as the Veteran of the Day on July 17 by the U.S. Department of Veterans Affairs in its blog, VAntage Point.
Alex Hoehn, a sophomore business administration/management major, was featured in the Shawnee Mission (Kan.) Post on July 19. Hoehn, who won the U23 Road Race National Championships in cycling, is attempting to achieve his dream of competing in the World Tour.
Lynn Bondurant, '61, Ph.D., who is a retired NASA educational programs officer, appeared on the KCUR-FM (Kansas City) program "Up To Date" on July 19 for a 30-minute interview to discuss the 50th anniversary of the Apollo 11 mission and the presentation he made on July 20 at Union Station Kansas City. Bondurant was also interviewed for a story that aired on KSHB-TV on July 20.
John Hamilton, Ph.D., associate professor of criminal justice administration, was interviewed for a story that aired on July 26 on KSHB-TV in Kansas City related to the search in Braymer, Mo., of two missing brothers from Wisconsin.
A story that aired on KFOX-TV in El Paso, Texas, on July 27 focused on Jessica Ramirez, who walked in Park University's commencement ceremony that afternoon. Ramirez was escorted across the stage by members of El Paso law enforcement to honor her husband, Carlos, who was killed in the line of duty after being struck by a passing vehicle during a routine traffic stop on July 2.
Park University's Valor Medals Review effort was featured on KCTV in Kansas City on July 29. Tim Westcott, Ph.D., director of the George S. Robb Centre for the Study of the Great War, associate professor of history and associate university archivist, Ashlyn Weber, senior public history major, and Josh Weston, sophomore European/classical history major, were all interviewed for the story. KCTV also aired a separate story during a live shot the following morning that focused on the search for descendants of a World War I soldier from southeast Kansas.
Casi Joy McCall, '12, who goes by the stage name of Casi Joy and competed in season 12 of NBC's "The Voice," appeared in an hour-long podcast produced by WDAF-TV in Kansas City on July 30. The podcast, "Crazeology," is a program dedicated to modern-day musicians that live and play in Kansas City. McCall was a 2017 recipient of Park University's Park Promising Young Professional Award.
Kay Barnes, senior director of university engagement and former mayor of Kansas City, Mo. (1999-2007), appeared in a 5-minute interview segment as part of KMBC-TV's "Chronicle: Mayor – The Quinton Lucas Playbook" on July 30. The program was a look behind the scenes of the Lucas mayoral campaign starting a week before the election. Barnes' interview provided insight into what Lucas can expect during his term.
In the July issue of Ingram's, Kansas City's business magazine, Park University ranked No. 14 on its list of private colleges/universities in Missouri and Kansas, based on graduate enrollment in Fall 2018.
In the July 19 edition of the Kansas City Business Journal, Park University ranked No. 75 on its list of the top Kansas City area private-sector employers, based on the number of full-time equivalent employees in the Kansas City area.
Park University's online Bachelor of Science degree in information and computer science/software development was ranked No. 10 on The BestSchools.org's "Best Online Bachelor's in Software Engineering Degree Programs" list.
Upcoming Events
(All events are Central time)
          •  August 3 — Fort Myer (Va.) Campus / Headquarters Marine Corps/Headquarters Battalion Henderson Hall (Va.) Campus / Marine Corps Base Quantico (Va.) Campus Commencement, 10 a.m., Little Hall, Quantico
          •  August 3 — Lackland Air Force Base (Texas) Campus / Randolph Air Force Base (Texas) Campus Commencement, 10:30 a.m., St. George Maronite Catholic Church Phoenician Ballroom, San Antonio, Texas
          •  August 4 — Summer Session / Julymester End
          •  August 5-September 27 — Laurel DeFreece Mixed Media Art Exhibit, Campanella Gallery (Norrington Center)
          •  August 12 — Blood Drive, 10 a.m.-3 p.m., McCoy Meetin' House
          •  August 13-14 — Fall Faculty Conference, Parkville Campus
          •  August 16 — Move-In Day, Parkville Campus
          •  August 19 — Fall Semester / Fall I Classes Start Nationwide
          •  August 23 — Opening Convocation, Noon-1 p.m., Graham Tyler Memorial Chapel (and nationwide via the University's video portal)
          •  August 23 — Kansas City Area Students/Faculty/Staff Picnic, 1-2:30 p.m., University Front Lawn
          •  August 26 — "Gandhi: The First Peace Journalist," 7 p.m., Graham Tyler Memorial Chapel
          •  August 27 — "The Status of Peacebuilding Between India and Pakistan," 7 p.m., Hudson Auditorium, Johnson County Community College, Overland Park, Kan.
          •  August 30 — Minot (N.D.) Air Force Base Commencement, 6 p.m., James Crawford Airman Leadership School Building
          •  September 2 — Labor Day Holiday (all University offices closed; Parkville Daytime classes cancelled; Fall I classes held as scheduled)
          •  September 6 — Camp Pendleton (Calif.) Campus Commencement, Noon, Pacific Views Event Center
          •  September 12 — Dr. Jerzy Hauptmann Distinguished Guest Lecture: Stephen Walt, "Can America Still Have a Successful Foreign Policy?", 6:30 p.m., David Theater (Alumni Hall)
          •  September 17 — Fort Irwin (Calif.) Campus Commencement, 11 a.m., location TBA
          •  September 19 — International Talk Like a Pirate Day
          •  September 19-21 — Homecoming and Family Weekend, Parkville Campus
          •  September 20 — International Center for Music Concert: Stanislav and Friends: An Intimate Evening, 6 p.m., Kauffman Center for the Performing Arts, Kansas City, Mo.
          •  September 21 — Park House Celebration, noon-5 p.m., Park House
          •  September 28 — Davis-Monthan Air Force Base (Ariz.) Campus Commencement, 4 p.m., Fox Tucson (Ariz.) Theater
Note: To view a comprehensive schedule for all events, including athletics and student life, visit park.edu/calendars/park-events-calendar.