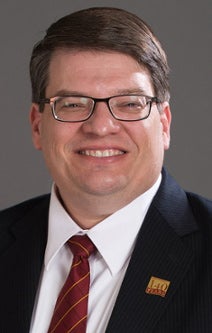 Greg Gunderson, Ph.D., joined Park University on January 15, 2016, after serving as vice president and chief financial officer at Webster University in St. Louis since 2011.
At Webster, he directed the financial processes of the University's 68 campuses in addition to managing facilities, campus security, purchasing and internal audit. Prior to that, Gunderson spent nine years at the University of Nebraska-Lincoln, ultimately serving as assistant vice chancellor for business operations in the Office of Academic Affairs.
His experience in the private sector includes working as a project controller at ConAgra in Omaha, Neb., director of finance at APAC Customer Services in Omaha, and as a tax accountant at both Cray Research and Arthur Anderson in St. Paul, Minn.
Selected "CFO of the Year" by the St. Louis Business Journal in 2014, Gunderson earned his Doctor of Philosophy degree in educational leadership from the University of Nebraska-Lincoln. He received a Master of Business Administration degree from the University of St. Thomas and a Bachelor of Science degree in business administration from the University of Nebraska-Omaha.
Gunderson enjoys being active in the community. In St. Louis, he served as a trustee on the Frank Lloyd Wright House Park Board and as a board member of the St. Louis Contractor Loan Fund. He also co-chaired Webster University's United Way campaigns and served on a taxing authority board for the city of Webster Groves, Mo.
A native of Omaha, Gunderson's family includes his wife Laurie, who is interim director of the Rockwood Drug-Free Coalition, and their sons David, 19, a college freshman, and Jack, 17, a high school junior. Gunderson enjoys a variety of hobbies, including woodworking, restoring old cars and curling.