The Crow's Nest — June 6, 2022
ICM Piano Student Advances in Prestigious Cliburn Competition
Park University International Center for Music graduate student Ilya Shmukler, who is one of 30 competitors participating in the 16th Van Cliburn International Piano Competition in Fort Worth, Texas, advanced to the quarterfinal round (final 18) after his preliminary round performance on June 4. Considered one of the renowned international music contests, the event includes the world's top 18- to 30-year-old pianists competing for cash prizes, comprehensive career management, artistic support and bolstered publicity efforts for three years.
Shmukler will perform in the quarterfinals tonight (Monday, June 6) at 8:15 p.m. Should he advance to the semifinals, that round will be held Wednesday-Sunday, June 8-12. You can watch his performance by visiting cliburn.org/2022-webcast. The final round will be Tuesday-Wednesday, June 14-15 and Friday-Saturday, June 17-18.
Shmukler competed in the 15th Cliburn event in 2017, advancing to the quarterfinal round (the same year that fellow Park ICM graduate student Kenny Broberg won the silver medal), prior to becoming a student at Park in 2019. Shmukler's instructor, Park ICM founder and artistic director Stanislav Ioudenitch, was the co-gold medalist in 2001.
Campanella Gallery Hosting Art Exhibit Featuring Works by Two Artists from Northwest Missouri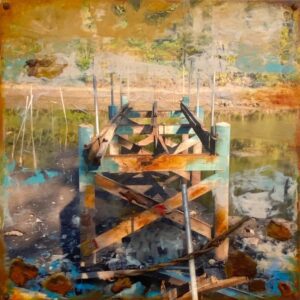 From today's current events that foreshadow change tomorrow, Missouri artists Laurel DeFreece and Robin VanHoozer have collaborated to create "Fate," an art exhibit that explores the random events that intertwine the common threads of tomorrow. The exhibit will be on display at Park University's Campanella Gallery from Tuesday, June 7, through Friday, July 29. Admission to the Gallery, located within Norrington Center on the University's flagship Parkville Campus, is free. A reception for the artists will be held on Friday, June 24, from 2 to 4 p.m. in the Gallery. According to the duo's artist statement, the exhibit combines encaustic, mixed media and collage techniques to depict themes of nature, truth, time and destiny in rural America. As climate and nature are at the forefront of issues affecting the world's future, "Fate" portrays and documents incremental temperature increases plus dramatic weather activity, such as floods and drought, intensifying with time and how that affects urban and rural communities alike. Read more about the exhibit at park.edu/news/fate-exhibit.
Faculty, Staff, Student News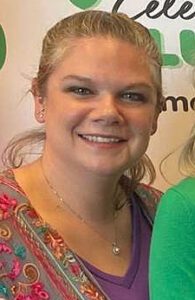 Danica Love, adjunct instructor of early childhood education, was recognized with a President's Award from Girl Scouts of Northeast Kansas and Northwest Missouri during a volunteer recognition event on May 1 in Olathe, Kan. The award recognizes excellence in overall service unit performance in membership, volunteer leadership and quality programs. Recipients of the award exceed expectations and deliver well-rounded Girl Scouts experiences for the girls and leaders they serve. Love serves in a service unit leadership position and is part of a team that supports other volunteers, leads events, provides training and recruits new members.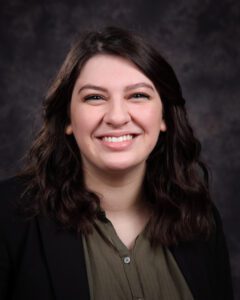 Camille Abdel-Jawad, assistant professor of library instruction and outreach, presented a breakout session on "Perceived Authority, Real Consequences: Research-Informed Practices to Teaching Students about Authority and Misinformation" at the Library Orientation Exchange Conference on May 7 in Ypsilanti, Mich. The presentation provided key research-informed practices to support information literacy instruction as part of research competed during the 2021-22 academic year facilitated by Park University's Faculty Center for Innovation Scholarship Fellows Program.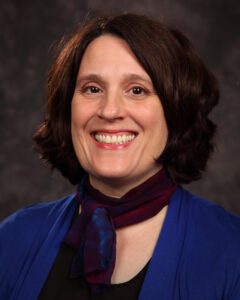 Andrea Lee, Ph.D., assistant professor of art and director of the Campanella Gallery, presented a virtual public lecture on "African American Art: Fine and Folk Traditions" for the Mid-Continent Public Library on May 11. The program explored the history of African American art from the 19th and 20th centuries, and included information on folk art traditions, such as quilt making and modern art movements.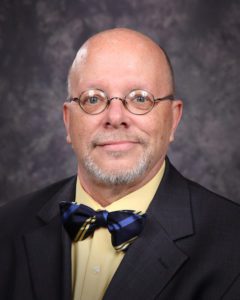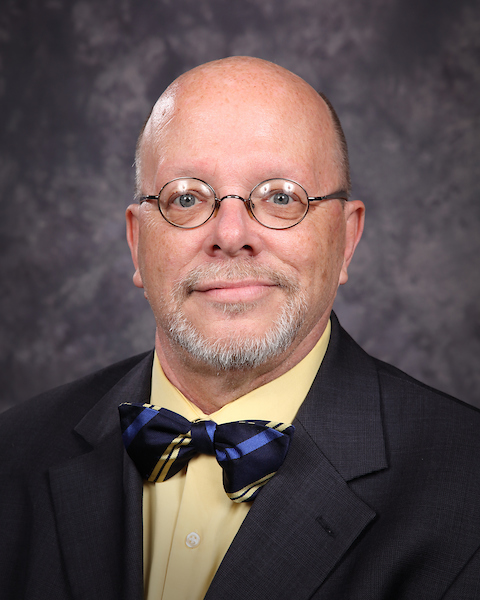 Park University's George S. Robb Centre for the Study of the Great War and the First Division Museum at Cantigny Park, Wheaton, Ill., co-hosted Lesser-Known Stories of the Great War: Women, Minorities, Civilians and the Untold Symposium on May 13 at the First Division Museum. Among the presentations, scholars addressed American Indian nurses and spiritual transformations, Signal Corps switchboard soldiers, 1st Lt. William J. Warfield, the first U.S. casualties, the forgotten female veterans, American horses, soldier participation within the American humanitarian movement, and pacifism, protest and the queer community. Tim Westcott, Ph.D., associate professor of history, director of the Robb Centre and associate archivist, represented the University at the event.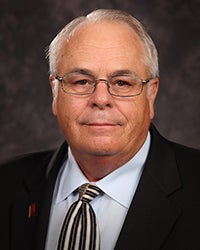 Kirby Brown, dean of Park University's College of Management, provided the keynote address for Pittsburg (Kan.) State University's Memorial Day Observance on May 30.
Park in the News
A story about Vini Baigan, '12, MBA '15, being promoted to associate head coach of the women's volleyball team at the University of Texas Rio Grande Valley was posted on the UTRGV athletics website on May 2.
Matt Harris, Ph.D., assistant professor of political science, was interviewed for stories that aired on WDAF-TV on May 3 and KMBZ-FM on May 4, both in Kansas City, related to the leak of a draft opinion that would overturn the landmark 1973 Roe v. Wade case.
Greg Plumb, J.D., professor of criminal justice administration, was interviewed for stories that aired on KMBC-TV in Kansas City on May 4 related to a private security firm owner claiming self-defense in a March shooting incident.
Jan Zimmerman, '93, MPA '97, who serves as the chief of police for Raymore, Mo., was honored with the Donald "Red" Loehr Outstanding Police Chief award by the Missouri Police Chiefs Association during its annual conference on May 3 in Osage Beach, Mo., according to an announcement on the City of Raymore's website. She is the first female in the history of the MPCA to receive the award.
A story about Greg Volker, MPA '97, being appointed chief of police for the city of Benson, Ariz., appeared in the San Pedro Valley (Ariz.) News-Sun on May 10.
A story about Allan Coy, an incoming Parkville Campus men's basketball player, aired on KQTV in St. Joseph, Mo., on May 11.
Eugene Matthews, Ph.D., associate professor of criminal justice administration, was interviewed for stories that aired on KSHB-TV in Kansas City on May 12 related to a string on suspected arsons in Caldwell County, Mo.
Jeff Fore, Gilbert (Ariz.) Campus director of athletics and women's basketball head coach, was interviewed for a story that aired on Bally Sports Arizona/Cronkite Sports on May 13 related to the recent opening of Legacy Sports USA/Bell Bank Park, which is the new home for a number of Gilbert Campus athletics programs.
An opinion column authored by Abhijit Mazumdar, Ph.D., assistant professor of communication arts, related to the Citizenship Amendment Act which was passed by India's Parliament in 2019, appeared in Sunday Guardian Live in India on May 14.
Lorraine Moore, development director, was highlighted in The Independent, Kansas City's journal of society, on May 14. Moore also graduated from Leadership Northland in May, a program of the Northland (Kansas City, Mo.) Regional Chamber of Commerce
A story about Mark Dunning, MPA '19, appeared on the Link 2 Lee's Summit (Mo.) website on May 19. Dunning, who serves the city of Lee's Summit as its assistant city manager of infrastructure and development, is set to become the city manager in September.
Jeanette Prenger, '09, and a member of the Park University Board of Trustees (and immediate past chair), was featured in the May 20 issue of the Kansas City Business Journal as one of its 2022 Champions of Business. The program honors companies that prove what it means to be a business champion. Prenger is the founder and president of ECCO Select, a talent acquisition and advisory consulting company in Kansas City, Mo.
Rob Kudratov, '18, was honored with a 2022 Student Veteran Leadership Award by G.I. Jobs. The award, which was announced on May 25, honors student veterans who make a positive difference at their school and in their communities. Kudratov will be recognized in the August edition of the magazine.
The Valor Medals Review Project, being conducted by Park University's George S. Robb Centre for the Study of the Great War, was featured on KSHB-TV in Kansas City on May 26. Timothy Westcott, Ph.D., director of the Robb Centre, associate professor of history and associate university archivist; Ashlyn Weber, Robb Centre associate director of research and initiatives; and Josh Weston, Robb Centre associate director of military research, were interviewed for the story.
The VMR was also the subject of a cover story that appeared in The Oklahoman (Oklahoma City newspaper) on May 29. Comments by Westcott and Weber appeared in the story. The article focused on Native Americans in Oklahoma that are a part of the review.
David Radzynski, who earned a Graduate Certificate in Music Performance (violin) in 2014 from Park University's International Center for Music, has been appointed concertmaster of the Cleveland Orchestra.
Steve Youngblood, associate professor of communication arts and director of the Center for Global Peace Journalism, appeared on the Express to Impress podcast on May 27 to discuss word choice in journalism and business.
Upcoming Events
(All events are Central time unless noted)
          •  June 6 — Junemester / Summer Session Begins
          •  June 7-July 29 — Art Exhibition, "Fate," by Laurel DeFreece and Robin VanHoozer, Campanella Gallery (Norrington Center); Reception: June 24, 2-4 p.m., Campanella Gallery
          •  June 20 — Juneteenth Holiday Observed (All University offices closed nationwide; Summer Session and Junemester classes held as scheduled)
          •  June 21-24 — Park United Conference, Parkville Campus/Virtual/Hybrid
          •  June 24 — F.E. Warren Air Force Base (Wyo.) Campus Commencement, 3:30 p.m. (2:30 p.m. Mountain time), Trails End Event Center
          •  July 3 — Junemester Ends
          •  July 4 — Julymester Classes Begin
          •  July 4 — Independence Day Holiday (all University offices closed nationwide; Summer Session and Julymester classes held as scheduled)
          •  July 31 — Summer Session / Julymester Ends
To view a comprehensive schedule for all events, including athletics and student life, visit park.edu/calendars/park-events-calendar.