COVID-19 Update: In response to COVID-19, we are offering secure telehealth sessions. Due to state licensing laws, direct counseling services are provided to Park University students who are physically located in Missouri or Kansas at the time of their appointment. All Park students will be provided with appropriate referral information if outside our service area.
OUR SERVICES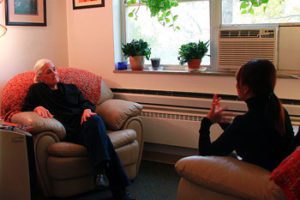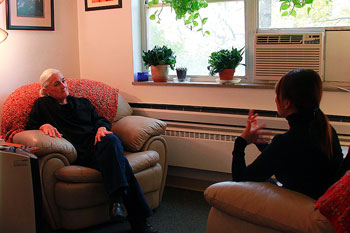 Licensed counselors are available at no charge to Park University students. Counseling is offered to assist students in getting through the challenges that life presents in order to learn and grow.
To make an initial appointment, email counselingappointments@park.edu or stop by the Counseling Center, located in Dearing Hall (next to Chesnut Residence Hall). Fall and Spring office hours are 8:00 a.m. to 4:30 p.m., Monday through Friday. If you send an email, please include your name, student number, a phone number where you can be reached, and a brief description of the reason for making an appointment.  After initial contact, you will be provided with a link to fill out intake paperwork prior to your first session.
The initial interview provides an opportunity to discuss concerns, as well as relevant background information, in a confidential setting. This session will lead to a recommendation regarding further services and a mutually agreed upon decision as to how the Counseling Center can best help you. Referrals may be made to on-campus or off-campus services that are appropriate to your needs.
Here are some helpful tools to screen your mental health status. Mental health professionals suggest seeking professional help if you score high in these tests and quizzes.
Depression Screening Quiz
Anxiety Screening Quiz
Self-Esteem Test
Eating Disorder Screening Test
Adult ADD Screening Test
Bipolar Screening Test
What's Your Emotional Types? Quiz
Relationship Quiz
Domestic Violence Screening Quiz
WHY CHOOSE COUNSELING?
Manage transition and change
Uncertainty about life goals and values
Establish the stability necessary to complete your education
Resolve problems in personal relationships
Address feelings of depression, grief, loss, or anxiety
Develop effective communication skills
Family concerns
Learn to manage stress
Sexual concerns; sexual orientation
Explore reasons for a lack of motivation, concentration difficulties
Abuse of alcohol and other drugs
STUDENT ADVOCACY
Students who need assistance with additional resources such as utility, rent, income-based housing, health care, administrative assistance, or help accessing community resources such as food pantry, WIC, Childcare Subsidy or SNAP programs can work with our center or contact Amanda Bryant, Coordinator for Student Advocacy.
WHAT SERVICES ARE AVAILABLE?
Counseling for individuals
Distance counseling
Specialized educational groups
Consultation is offered to Park students, faculty and staff
CANCELLATIONS AND NO-SHOWS
Personal commitment to counseling is crucial for success. We encourage you to keep all appointments scheduled. If you must miss a session due to illness or an emergency, please call to cancel the appointment as far in advance as possible. Failure to follow up and reschedule with the Counseling Center may result in losing your appointment time the following week.
CONTACT US
Linda Waxse: (816) 584-6237; Monday – Friday, 8:00 a.m. to 4:30 p.m.
Diana Camden: (816) 584-6725; Monday – Friday, 8:00 a.m. to 4:30 p.m.
Clinical Interns: (816) 584-6258; Hours vary

There is no charge for any Counseling Center service for enrolled Park students.
OUR MISSION
The mission of the Park University Counseling Center is to support the emotional, academic, and identity development of a diverse student population preparing to be lifelong learners in a global community.